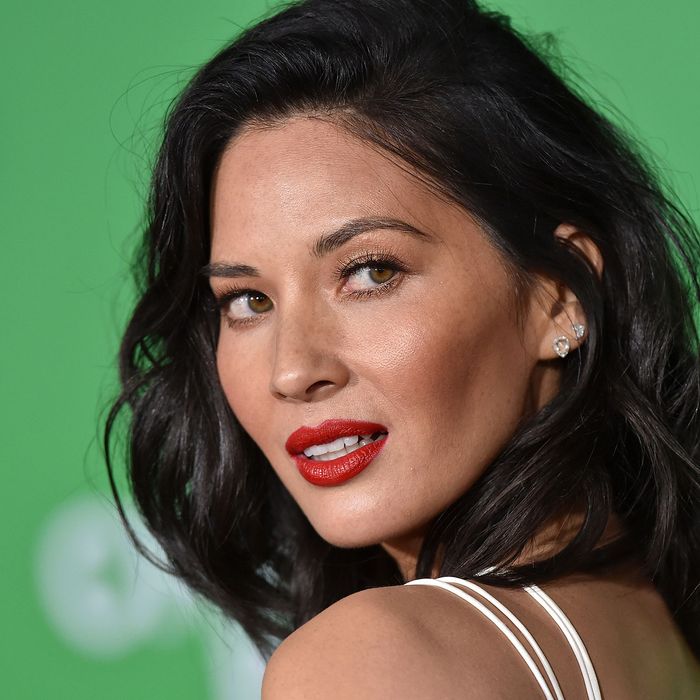 Olivia Munn.
Photo: 2016 Axelle/Bauer-Griffin
From Snoop Dogg to Linda Rodin, everyone can agree that sleep is an important component of wellness. In Sleeping With, interesting bedfellows talk about how they sleep, where they sleep, what they do when they can't sleep, and what it's like to sleep with them.
The Cut caught up with actress Olivia Munn, whose wellness regimen includes beef jerky and Japanese potatoes, at a pop-up event launching Proactiv's new line, ProactivMD. Here, the face of the brand talks science books, crystal candles, and late-night Thai food.
On my bedside table are: A couple books. Ava Gardner:The Secret Conversations, The Power of the Subconscious Mind, and this one that an actor on The Predator, Thomas Jane, just gave me that's basically a physics book. On The Predator, we were always talking about science and theology and mythology — all that stuff.
I get ready for bed by: I wash my face and exfoliate, or I use the Proactiv cleaning brush. Then I put moisturizer on, and I set my alarm. Before bed, I just read — it's pretty boring. I read a book — an actual book, because I tried reading it on my phone or on a Kindle, but it just kept me awake, and I was having a hard time going to sleep. I used to fall asleep with the TV on all the time. I watched Dateline and 20/20 and 48 Hours for years and years, but over the last year, I stopped.
I also like to wind down with these candles from Aloha Elixir. They're really great candles. They're made with actual crystals and stones inside them, so when you burn them down, you see them.
I like my bed to have: Those pillows that are made for sleeping on your side. They have the hump in them that goes down. I'm a side sleeper, and it can hurt my neck. This pillow is the best because it helps you align your neck. Instead of being on a regular pillow that squishes it up, your head goes over it, and then it keeps your neck long. I get them at Bed Bath & Beyond.
In bed, I wear: Usually just a T-shirt.
My favorite late-night snack is: Leftover Thai food. I always have Thai food in my refrigerator — usually yellow curry with white rice.
My recurring dream: I've had this dream since I was a little girl that I'm running away from people and they're chasing me and then all the sudden I realize that, like Super Mario Brothers, if I start running and jumping and jumping and jumping, I can fly. If I start to lose my energy, I've got to do that thing in Mario where you have to dip your head up and make your whole body go up and up and up, so that's what I do. I basically fly just like Super Mario in my dreams.
If you buy something through our links, New York may earn an affiliate commission.