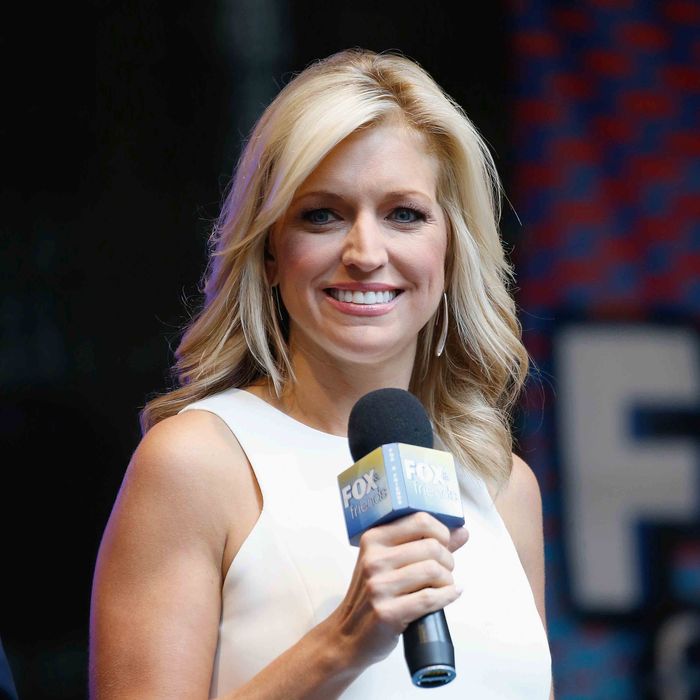 Fox anchor Ainsley Earhardt caused a stir with her green pantsuit Thursday morning.
Photo: John Lamparski/WireImage
On Thursday morning, anchor Ainsley Earhardt appeared on Fox & Friends in a bright green pantsuit and a ruffled white blouse. This doesn't sound groundbreaking — in most workplaces, pantsuits are standard professional attire for men and women alike. But on Fox, where until recently female anchors haven't been allowed to wear pants on air, it was unusual. And viewers noticed.
Some, like Politico's Hadas Gold and Media Matters' Cristina López, were into it, implying that it seemed to mark the end of the Ailes era at Fox.
Others were … less supportive.
As recently as last month, a Fox spokesperson said there had never been a "pants ban" at the network. But following Ailes's departure, female anchors began to expand their wardrobe options on air, each time causing ripples. And New York's Gabe Sherman reported that Suzanne Scott — former Fox co-president Bill Shine's deputy, who once enforced Ailes's short-skirt dress code and reportedly helped cover up his treatment of women — has lifted the pants ban and has "taken it upon herself to encourage women to wear pants on air."
Of course, that move won't totally reinvent the network's notoriously sexist workplace culture; many of the managers who enabled Ailes's behavior are still there, and critics are skeptical that Fox's culture can ever truly change. But for the time being, it's an improvement.