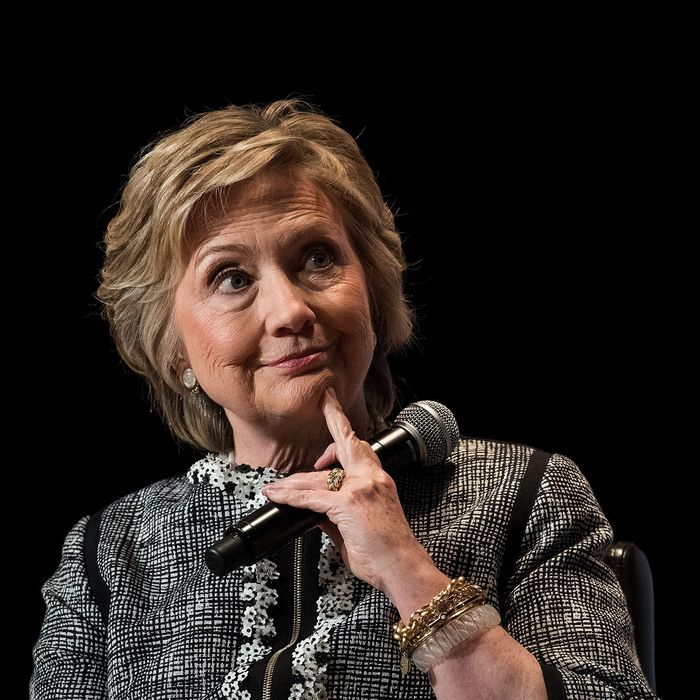 Hillary Clinton gave the audience at the American Library Association conference her reading list.
Photo: 2017 Getty Images
Hillary Clinton has some unexpected free time on her hands these days, and as she told the audience at the American Library Association conference on Tuesday, she's been filling it with things like hikes, white wine, and reading. The former presidential candidate said that after her election loss, one of the ways she found solace was by "going back to the familiar experience of losing myself in books."
Then she ticked off what she's read since November: "I finished Elena Ferrante's Neapolitan novels, I devoured mysteries by Louise Penny, Donna Leon, Jacqueline Winspear, Charles Todd," she said. She continued, "I reread old favorites like Henri Nouwen's The Return of the Prodigal Son, the poetry of Maya Angelou and Mary Oliver. I was riveted by The Jersey Brothers and a new book of essays called The View From Flyover Country, which turned out to be especially relevant in the midst of our current health-care debate." (The last is a self-published book of essays by Missouri-based journalist Sarah Kendzior.)
Congratulations to Hillary, who now has more time to read than a person who lives in Washington Heights and commutes to Ditmas Park.