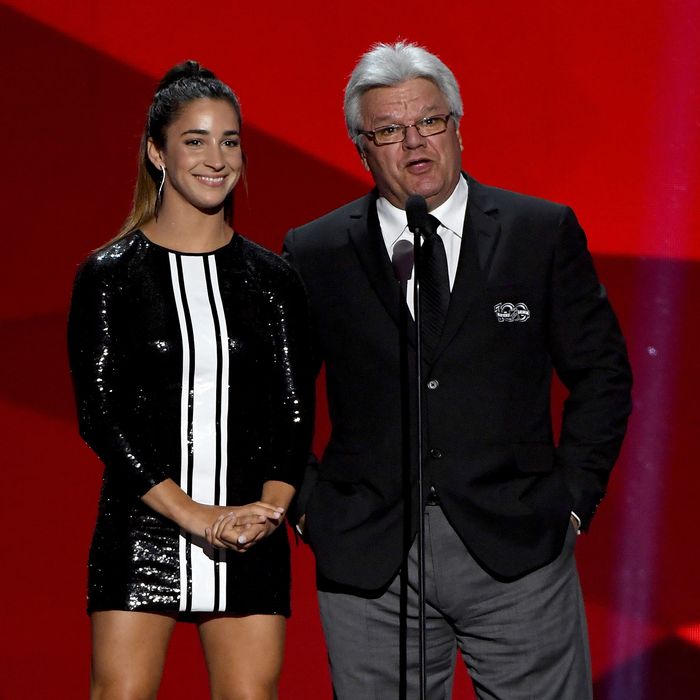 Aly Raisman and Marcel Dionne.
Photo: Ethan Miller/Getty Images
Less than a month ago, three-time Olympic medalist Aly Raisman spoke out after a male TSA agent commented on her arm muscles at the airport. On Wednesday night, another man opted to say something about her body — only this time, the remark happened while the pair were onstage during the NHL Awards.
Raisman appeared with Hockey Hall of Famer Marcel Dionne to present the Lady Byng Trophy for sportsmanship. As the Guardian notes, the pair engaged in the requisite small talk of any awards show, until the 65-year-old said of Raisman, "Look at those legs!" The gymnast awkwardly laughed as the camera panned out to give everyone a view of her legs, and the audience responded with a combination of boos and whistles.
Dionne then gestured toward Raisman's legs, gave a thumbs up, and referred to a comment she made about him being one of the "old greats." He said to her, "And what did you say, 'old'?" In turn, the Olympian asked if "'legendary' was better," and he agreed that it was. At this point, we might suggest "extremely inappropriate."