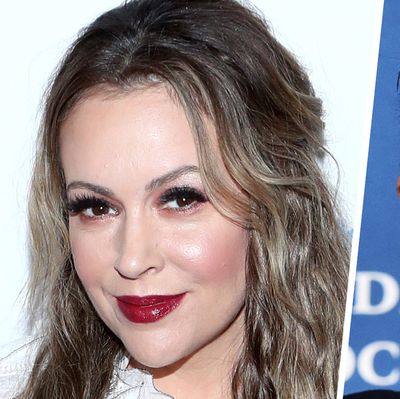 Alyssa Milano (left), Ted Cruz (right).
Photo: Getty
After Florida senator and high-heeled-boot enthusiast Marco Rubio's recent incredibly awkward hug with Ivanka Trump, you'd think Republican lawmakers would have learned to steer clear of public displays of affection for a while. But instead, Texas senator Ted Cruz attempted to join in on Alyssa Milano's Twitter call for a group hug, which the actress promptly rejected.
Milano, who often uses social media to promote liberal causes, spent Tuesday night tweeting about the special election in Georgia. Shortly after learning that Republican Karen Handel beat Democrat Jon Ossoff, Milano tweeted, "~GROUPHUG~ get in." Two days later, Cruz replied, "We all need a hug!" — with an accompanying and creepy winking emoji.
Milano retorted, "Not you @tedcruz. You're not invited."
Wise move, Alyssa. Everyone knows Ted Cruz hugs don't end well.