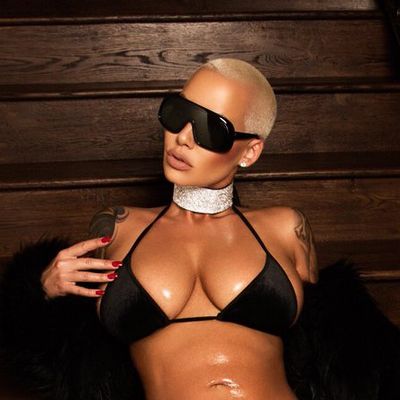 Photo: Amber Rose/Twitter
The beauty of Night Twitter is that even if you sleep through the mishegoss, it's still trending the next morning. Such is the case with the full-frontal photo Amber Rose posted on Instagram and Twitter to promote her third annual SlutWalk. In the photo, Rose is reclining on stairs wearing a bikini top, faux fur, sunglasses, diamonds, and a whole lotta baby oil — but no bikini bottom. The photo was almost immediately deleted by the mons pubis–fearing social-media platform, but it's still circulating on Twitter.
After the photo was taken down, Rose posted on Instagram, "When IG deletes ur fire ass feminist post but you really don't give a f*ck because everyone picked it up already #amberroseslutwalk #bringbackthebush"
Naturally, the internet has been freaking out about the state of Rose's natural pubic hair, but Rose doesn't give a flying you-know-what about that either.