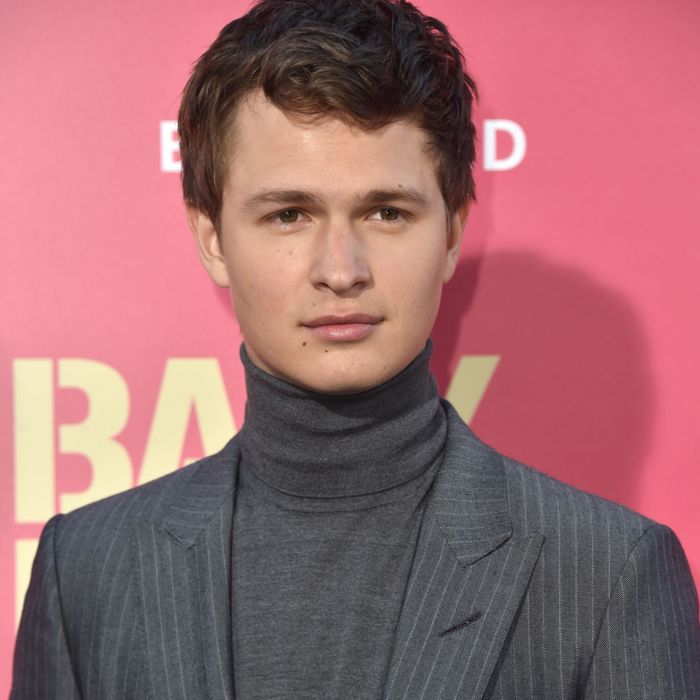 Ansel Elgort.
Photo: Frazer Harrison/Getty Images
Ansel Elgort's tendency to speak off-the-cuff — in addition to his distinctly insufferable aroma of rich-white-hot-bro privilege — has earned him some hate over the years, but in a new Billboard profile, he proves he's not going to let the bastards grind him down. And why should he? He's got a booming EDM career as DJ Ansolo, he's starring in one of the summer's most-anticipated films (Edgar Wright's Baby Driver, in which he plays "a soft-spoken badass"), and he just moved into his dream home, a 1890s Brooklyn brownstone he renovated himself (because his parents always told him: 'The second you can afford to buy a place, buy a place'"). We may not all rise to the same great heights as Ansel, but his boundless self-confidence can still be an inspiration to us all:
He believes in his future.
"Eventually, I hope I can have a career that's uncategorizable. And that's hard. I think that would be very difficult to do." He pauses, thinking. "But I'm hopefully going to pull it all off."
He was really cool in high school.
By his senior year at LaGuardia in 2012, Elgort was one of the school's top actors ("like being the quarterback on the football team at a Texas high school").
He knows what he likes:
[Talking about Le Pain Quotidien]: "It's extremely solid," says Elgort. "Some people are like, 'You're from New York, have you been to, like, insert-five-really-douchey-places?' I haven't been to any of those places. I like my solid places."
… and what he doesn't like:
"When I heard electronic music, it felt like my thing," says Elgort. Rock concerts "sucked. It felt like everyone was old. No one's jumping up and down or dancing. It's awkward as fuck. But at EDM concerts, everyone's going ape shit and having a blast. It felt like youth to me."
He knows that it's hard to be successful and beloved:
I don't walk around calling attention to myself. It's important to be able to blend in; otherwise you turn into a Hollywood douche bag. I'm sure plenty of people think I am one, too. I'm super easy to hate. But it's fine. It's hard to be liked and successful.
He's not afraid to have unpopular opinions:
[On his friends, the Chainsmokers, who he once opened for]: "It's a prime example of how success makes everyone hate you if you're not underground," he says when asked about the perhaps inevitable pockets of backlash against The Chainsmokers. "And I've also been there. It becomes a meme to hate somebody. But don't be like, 'They seem like they're so bro-y.' They were never trying to fool anyone into thinking they weren't bro-y."
He is confident in his creative vision, no matter the medium:
After lunch, Elgort, Kaner and I drop into Warhammer, a small Village fantasy-game shop. Elgort pulls a tiny warrior out of a glass case housing diminutive orcs, elves, aliens and other characters. He painted it himself, and stores it here with his other handiwork. "It's acrylic paint, and it's all about blending. That's what gives it the pop," he tells me in hushed tones. "You have a little guy you're going to paint, and you decide how to paint him. It's the same thing with miniatures as with music," he explains soberly. "It's your project."

He's comfortable accepting praise:
Spielberg saw Baby Driver! He said it was his favorite film of the year … I think I'll be able to work with really good directors now.
He has aspirational role models:

It's easy to say, "I'm going to just go full leading man right now. I'm going to not smile on red carpets, and I'm not going to say anything that offends anyone. I'm going to furrow my eyebrows and like, wear black suits, and only play roles where I'm really cool" … But my favorite actors are the guys who are both leading men and character actors: Christian Bale, Tom Hardy, Joaquin Phoenix. And my favorite musicians are the ones who can do anything: Freddie Mercury, David Bowie, Daft Punk.
He trusts his instincts:
[On plans for upcoming concerts]: I don't want to forget that I'm young, and my instincts are probably good. I won't forget about why I hate rock concerts and why I love EDM concerts. I'm going to keep it really fun.

Whatever the opposite of impostor syndrome is, Ansel's got it.