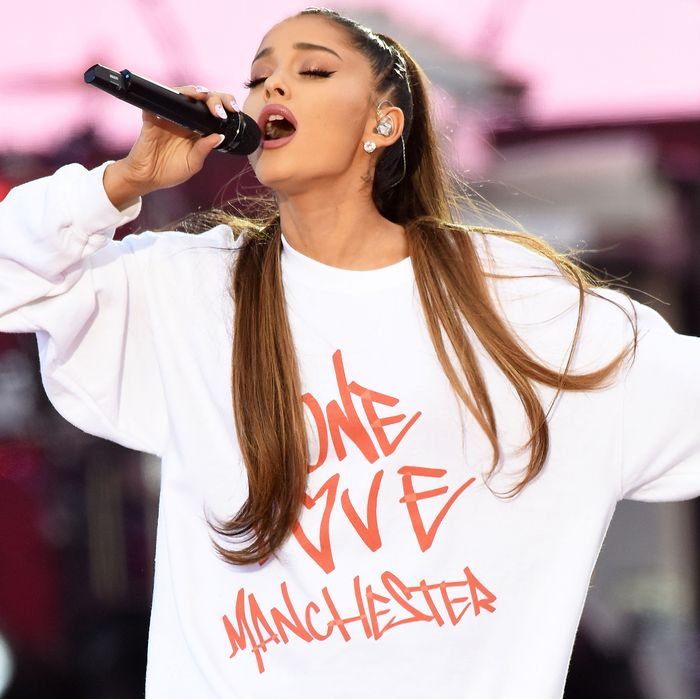 The 23-year-old pop star performs in Manchester on Sunday.
Photo: 2017 Getty Images
Up until the day before her performance at One Love Manchester on Sunday, Ariana Grande had an entirely different set planned. She had felt, in the wake of the terror attack at her Manchester concert only two weeks earlier that killed 22 people, that it would be inappropriate to perform anything upbeat. Then she met the mother of one of the victims, 15-year-old Olivia Campbell, and was reminded that in fact, nothing could be more fitting. "Olivia would have wanted to hear the hits," Campbell's mother Charlotte told her. "You play your hits. You sing your heart out, you make everyone get up and dance and sing along with you. Don't let anybody tell you not to do something." So she injected some joy back into the set list — the reggae-pop cheek of "Side to Side," synth-pop anthem "Love Me Harder," and EDM banger "Break Free," on which she yells, "I'm stronger than I've been before." In the end, rather than the muted, maudlin occasion it could have been, last night was proof of the healing power of pop music, and the unadulterated, irrepressible joy of teenage girls.
It's a joy that Salman Abedi did his best to extinguish on May 22 when he detonated a nail bomb as thousands of fans poured out of Grande's Manchester Arena show, many still clutching the pink balloons she'd released as part of her encore. At the time, Grande tweeted, "broken. from the bottom of my heart, i am so so sorry. i don't have words." A few days later, she found her words, releasing a long, heartfelt statement pledging to return to Manchester. "This show, more than anything else, was intended to be a safe space for my fans," she wrote. "A place for them to escape, to celebrate, to heal, to feel safe and be themselves. This will not change that."
Grande's statement got to the heart of the inimitable function a pop concert can serve in a world where teenage girls are consistently undermined, where their enthusiasm is dismissed as frivolity and their struggles dismissed as melodrama. In Ariana Grande's world and at her shows they can scream and sing along as loud as they want, wear their joy across their face, and not worry that their right to be taken seriously as a human being depends on them dampening the strength of their feelings. For a moment, the events of May 22 took that space away. Last night restored it.
Like her young fans, and like many other female pop stars, Ariana Grande is all too familiar with what it feels like to underestimated. With her ultrafeminine aesthetic, trademark ponytail, and tiny stature, she's dismissed and patronized, her agency in her own success constantly questioned. Despite being a successful artist in her own right, her identity has repeatedly been tied to the men she may or may not have dated, and her outfit choices and the unapologetic sexuality of her music have been held up as reasons she doesn't deserve respect, a toxic outlook bolstered by the Daily Mail's recent assertion that her "revealing stage outfits" might be the reason behind the attack. The inane line of questioning she is all too often met with in interviews also exposes the media's skepticism of young female pop stars' ability to say or do anything truly important. And yet her response to the horror of this attack has been ceaselessly impressive. There's no media training that can prepare you for supporting your fans through an act of unmitigated violence, but she has done so with compassion and resilience. After taking a few days to untangle what must have been an overwhelming mix of shock and guilt, she gathered herself, offered her support and help to fans, visited them in hospitals, and helped organize an event that raised over £2 million for the We Love Manchester Emergency Fund.
At last night's concert, just a few miles from where the attack took place, Grande brought together the likes of Katy Perry, Little Mix, Justin Bieber, Coldplay, and Miley Cyrus to show support and defiance in the wake of the attacks, and to bring some comfort. The only slightly jarring moment was an appearance from Liam Gallagher. Though as one half of Manchester's most famous export Oasis, Gallagher's appearance was significant, the resolutely bored aesthetic of his era of rock and roll, the refusal to be seen to show any effort, felt somewhat out of place in an evening of otherwise uncynical earnestness. So did the alienating masculinity he upholds — just last week, he proclaimed that Damon Albarn had turned his brother Noel into a "massive girl." Doesn't he know by now that that's the highest of compliments? Still, he showed up, he offered his support to the people of Manchester, and he avoided using it to further his own agenda — which is more than can be said of the president of the United States.
When the Manchester attack happened, Trump used it to fuel his scaremongering, calling on tighter limits on immigration, despite the fact the attacker was born in the U.K. When another attack happened in London this weekend, in which seven people were killed, Ariana Grande's manager insisted that the show would still go ahead, only "with greater purpose." Trump used it to (completely illogically) bolster his pro-gun stance, condemn "political correctness," and, though the identity and geographical origin of the attackers isn't yet known, urge the courts to reinstate his travel ban. It was an ill-thought-out and irresponsible reaction in the extreme.
As many people on Twitter last night pointed out, a 23-year-old popstar with a "baby Mariah voice," along with most of her teenage fans, dealt with these terror attacks with more maturity than the 70-year-old leader of the free world. And that doesn't surprise me one bit. Young women are going to be leading the world someday. It can't come soon enough.