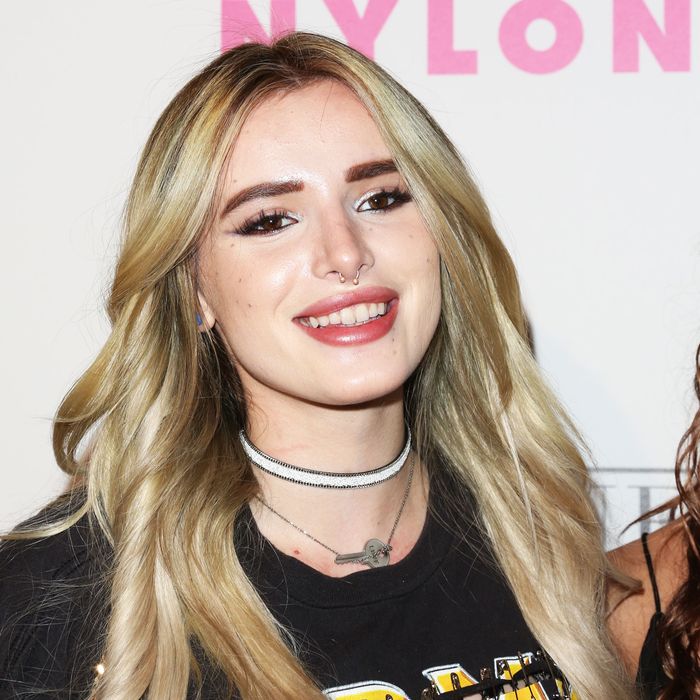 Bella Thorne.
Photo: Paul Archuleta/FilmMagic
In May, 19-year-old Bella Thorne and 33-year-old Scott Disick were photographed being handsy with each other by a pool in Cannes. As the photos came one week after they were spotted on a dinner date, we all assumed they were in the midst of a differently aged romance. However, Thorne told Complex in a new interview that she and Disick were just friends, and that he was only seen with his hand on her boob because he was helping her out after after her nipple popped out of her bikini. You know, as friends.
"Honestly, my nipple came out of my bikini and he tried to fix it for me and it looks like he's grabbing my boob," Thorne told Complex. "That's very nice of you to actually not sit there and stare at my nipple because my boobs are big — they come out of my shirt all the time! You can't keep those suckers down."
The former Disney star also told Complex that she and Disick met in the first place after Khloé Kardashian's ex-boyfriend French Montana brought him to one of her house parties (after Montana requested an invite through a Twitter DM). "That's how I met Scott — he came to a house party of mine [with French] and I was like 'Hi,'" Thorne said.
The actress went on to say that she found Disick to be "really nice, sweet, charming," but that she couldn't keep up with his drinking, which is why she cut their Cannes trip short. "I love to go out and have fun, I love to fucking dance, but I just don't party hard core like that and it was way too much for me," she explained. "I was like, 'Woah, this is not the way I live my life, bruh.'"
What a friendship.