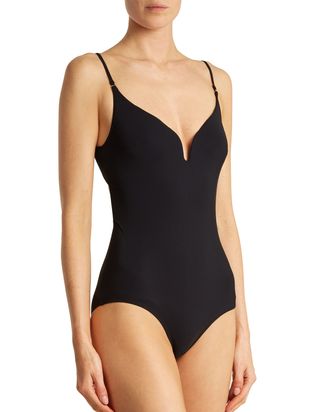 Splashing around in a nice and refreshing pool? Fun. Shopping for a new bathing suit? Not so much. To make it painless, the Cut is devoting this week to finding you the perfect swimsuit.
Anyone who has ever spent more than five minutes with me knows I hate warm weather. I dislike sweating, I find tanning repulsive from both a health and vanity perspective, and I get especially cranky when I see my expensive electric bill. But there's one activity I love that runs counter to all of my peeves: surfing. The rush of standing up on my board beats any resentment I have toward summer — if only I wasn't constantly falling off my board. That's why I decided to buy a fancy one-piece suit by Zimmermann.
This sleek black swimsuit isn't just stylish, with its minimal design and delicate dip at the breasts; it's actually quite functional. Don't be fooled by the thin straps — they fasten in the back with a sturdy gold clasp. The suit is so secure that I sometimes require help fastening and unfastening, especially if my arms are sore from a day in the water. The fabric is thick and has a ton of compression — it squeezes your insides better than any Spanx, without making you feel as if you can't breathe. It's by far the most structurally superior suit I've ever tried on, and it stays put no matter how much time I spend flailing in the water as waves crash overhead.
For the more daring, it also comes in a deep-blue leopard print, but this summer goth naturally prefers it in black.
If you buy something through our links, New York may earn an affiliate commission.