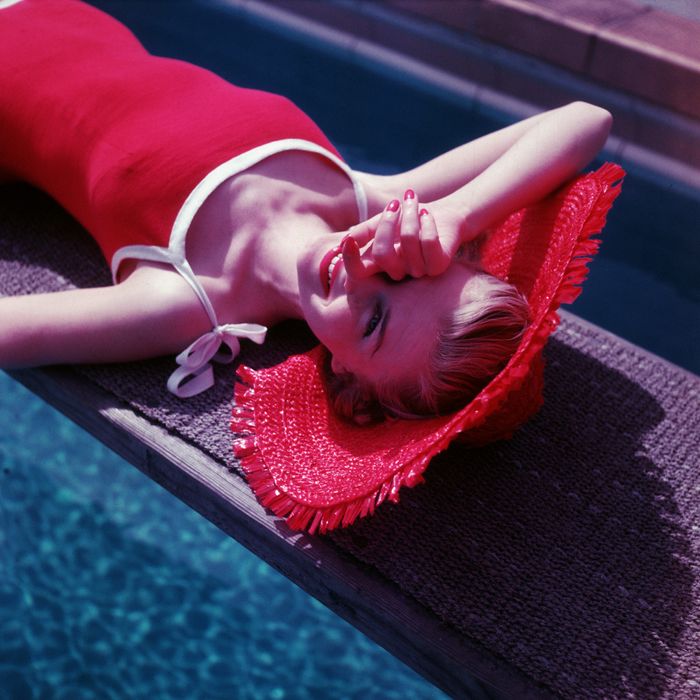 Photo: Hulton Deutsch/Corbis via Getty Images
Sometimes it's the cheap finds that bring the most joy to getting dressed. Cheap and Cheerful is a weekly column that highlights the chicest, most inexpensive finds. Because spending less to look good is the greatest satisfaction.
There's a reason why free SPF programs exist: the scary stats show you should never leave the house without slathering on sunscreen. And really, you can never be too protected, which is why a second layer of defense is always a smart precautionary measure. A trick I've learned from my sun-paranoid friends is to throw on a stylish straw hat. They'll keep you cool in the scorching heat while protecting your face from harmful UV rays. And don't just limit yourself to wearing them on the beach — these are chic enough to throw on with any outfit. From a classic black wide-brimmed style to a graphic Panama hat, scroll ahead to see some of our favorites, all under $100.
This hat has the distinction of being specifically designed to be smooshed in your suitcase or beach bag while still maintaining its shape.
Don't be afraid to wear a busy print — the muted neutral tones will prevent this from clashing with a solid-colored bikini or one-piece.
The extra-wide brim means you'll get more upper-body protection over your shoulders and chest.
If sun protection is your most primary concern, Wallaroo is the brand for you. Most of their hats, including this one, have a UPF factor over 50, protecting against both UVB and UV rays.
Rainbow pom-poms isn't exactly a style for everyone but if you're type to dress with cheer, this will do the trick.
It's a less dramatic shape than a wide-brimmed option, but the horizontal stripes and colorful pom-poms feel especially beach-festive.
You may have to be more delicate with this hand-woven hat, but it's a unique piece that's hard to replicate.
This features a fun beaded detail and painted scenery for an appropriately beachy twist. As most of Sensi Studio's elaborate straw hats tend to sell out quickly, jump on this one early while there's still a few sizes left.
If you buy something through our links, New York may earn an affiliate commission.