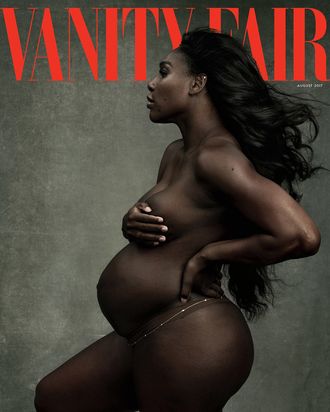 Serena Williams in Vanity Fair.
Serena Williams, one of the greatest athletes of all time, is expecting her first child with her Reddit co-founder fiancé Alexis Ohanian. In the meantime, she's been all over Instagram and Snapchat, sharing her travels, cute images of her dog Chip, and tennis practices with her fans. But beyond that, we haven't known much about her private life with Ohanian, including how they met or the early days of their pregnancy — until now.
In a new interview with Vanity Fair, the tennis queen opened up about her meet-cute with Ohanian (when he was hungover after drinking with Kristen Wiig in Rome, and she had to pretend to know about Reddit), how she found out she was pregnant, and her annoyance with constantly having her skills questioned on the basis of her gender ("If I were a man, then it wouldn't be any sort of question," she said). Here are some of the best details from Williams's Vanity Fair profile.
On meeting her fiancé in Rome:
"This big guy comes and he just plops down at the table next to us, and I'm like, 'Huh! All these tables and he's sitting here?,'" Serena remembered. Alexis recalled that the pool area was "not quite so empty." Then came the quintessential Australian accent of Zane Haupt. "Aye, mate! There's a rat. There's a rat by your table. You don't want to sit there." Serena started laughing. "We were trying to get him to move and get out of there," said Serena. "He kind of refuses and he looks at us. And he's like, 'Is there really a rat here?'" At which point Serena remembers the first words she ever said to him. "No, we just don't want you sitting there. We're going to use that table." [He replied,] "I'm from Brooklyn. I see rats all the time."
On how she found out she was pregnant:
That Friday, as Serena was doing her hair and makeup for an event sponsored by the lingerie company Berlei, where she is a spokesperson for its line of sports bras, she took the test in the bathroom. "I put it down. I went back to finishing hair and makeup, was laughing, talking. I was getting the styling done. An hour and a half later, I went back to the bathroom and I totally forgot about it because it was impossible for me … . So I went back to get dressed and I went back in the bathroom and I was like, 'Oh yeah, that test.'" Jessica [Steindorff, her friend] shrieked in delight at the results. Serena, as she put it, "did a double take and my heart dropped. Like literally it dropped. "Oh my God, this can't be — I've got to play a tournament," said Serena. "How am I going to play the Australian Open? I had planned on winning Wimbledon this year."
On playing (and winning) the Australian Open while pregnant:
The Australian Open presented a new challenge that Serena had never faced before in her career. Because of the pregnancy she did not have the same endurance. She could uncharacteristically feel herself getting tired between points, particularly long ones. If a match went to three sets she knew she would lose, so she was determined to make every match two sets. She also had to deal with the Melbourne heat, which can be vicious on the court in the late afternoon: despite hating playing in the morning, Serena, because she had the option of choosing the match time in the early rounds, played as many as possible at 11 A.M. You had to win seven matches to win the tournament. Serena won them all in straight sets.
On getting back on the court after the baby comes:
Perhaps the prospect of a continued love story is as realistic as Serena's insistence that she will return to the pro tennis circuit as soon as January because "I don't think my story is over yet." But if she says she will be back in January, she will be back in January. Anyone who has met Serena for more than five seconds knows that.
You can read the full story over at Vanity Fair.