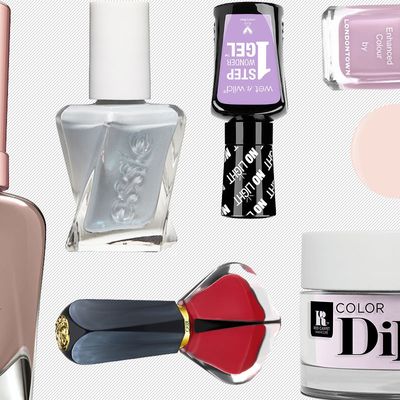 While it's tempting to go for that gel manicure — guaranteed to remain glossy and intact for two to three weeks — for those that prefer to avoid the damage and potentially risky side effects (exposure to UV radiation from lights to cure polish can be harmful to skin), there are alternative and healthier equivalents that last a week or more.
After experimenting with nearly two dozen formulas, these seven polish options all proved to have serious staying power while enduring daily hand washing, dish washing, shampooing, package opening, cleaning, and child-care bathing and diaper duties. While none of them quite lived up to the shine and durability of a professional gel service, they didn't injure the nails either. Each one survived a minimum of five days — and really, who isn't ready for a polish change after that?
Best Chemical-Free Polish: Londontown
Londontown's formula proves that dangerous ingredients aren't a requirement for a long-lasting lacquer. This nine-free polish boasts botanicals over chemicals, and works to strengthen and heal brittle nails while you wear it. Two coats granted full coverage and three coats added brilliant shine that adhered to my nail beds for six days. Removal process: wipes away easily with polish remover.
Most Durable: Morgan Taylor
I used this rosy mauve shade along with the brand's React No-Light Extended Wear Base and Top coats. As a trio, they generated tons of shine. The lacquer has a glide-on quality that remained intact for five days sans streaks, lumps, or bumps with speedy drying time to boot. Removal process: wipes away easily with polish remover.
Best Bargain: Sally Hansen
This lacquer yields a rich-looking manicure for a drugstore price. The smooth, streak-free formula is infused with argan, acai berry, and evening primrose oils so it allegedly has a hydrating effect on the nails, and also doubles as the base coat. I applied two coats of the greige shade plus the top coat before bed; it dried in about three minutes — no smudges — and my fingertips had a shiny, gel-like quality that stayed put for five days. Removal process: wipes away easily with polish remover.
Fastest Application: Wet n Wild No-Fade Neutral
For a quick, no-fuss paint job, Wet n Wild's one-step manicure requires no base or top coat. I applied two coats of the new lilac shade using the wide brush, which provided a smooth application and shiny, opaque coverage. The whole process, including drying time, was no more than seven minutes. This one made it three days before (minor) chipping occurred near the cuticles, but all in all lasted five days — a definite bargain at $6 a bottle. Removal process: wipes away easily with polish remover.
Best No-Fade Neutral: Oribe
Photo: Courtesy of Oribe
The flat, wide brush saturates the nail bed in one swipe so it's easy to achieve an even coat with Oribe's polish. A second bonus: It's free of nasties like formaldehyde, formaldehyde resin, camphor, DBP, parabens, toluene, xylene, or ethyl tosylamide. I liked the sheer yet full coverage of the "Royal Blush" shade (new for summer 2017) that's equally flattering for work or a wedding. I applied it with a base and top coat I had at home. My manicure held up well and didn't dull, fade, or turn yellow (a common side effect of pale neutrals), maintaining an impressive freshness that lasted seven days. Removal process: wipes away easily with polish remover.
Sheerest Formula: Essie
Essie's gel-inspired polish line goes on the sheerest of the bunch. I applied two layers of this neutral silver gray followed by the brand's special top coat (no base coat required), which gave my nails a just-stepped-out-of-salon quality. The polish glided on easily — with no bumps or bubbles — and dried in a couple of minutes. I noticed it starting to break down at the edge on day four, but it remained intact for five days. Removal process: wipes away easily with polish remover.
Easiest to Apply: Red Carpet Manicure
The number of bottles and tools in this kit is intimidating at first (base coat, activator, top coat, orange wood sticks, wipes, extra brushes, buffer/file, and remover foils), but the six-step instructions proved simple to follow. Unlike traditional polish — which, depending on your lacquer skill level, can get messy around the cuticles — this dry powder is pretty much impossible to mess up, but it's also pretty tough to take off. I didn't think this manicure would ever budge.
Here's how it works: You begin with base coat, then dip each nail into the pigmented powder pot (there are 21 shades to choose from). I repeated this process a total of three times until I achieved enough opacity (I used a pale pink called "Contract Please," which comes with the kit). Next, apply the activator, more base coat, more activator, then wipe off each nail with a lint-free wipe. I finished with two layers of the top coat, which smelled so strong my eyes watered. The manicure dried instantly — a big selling point.
Compared to professional salon powder manicures this DIY version was gentle and non-suffocating; on the downside, however, I experienced lumpiness, perhaps from applying the base coat too thick. The brand promises up to 21 days of wear, and while my nails never chipped or cracked, they were dull and began growing out by day nine.
Removal process: This part took longer then the entire manicure. The remover foils that come inside the kit are thin, not pliable, and the cotton wasn't absorbent compared to regular tin foil and cotton balls, which I used instead. It took about 40 minutes to remove and I was still left with residue on my nails. If you don't mind the commitment, this one is tough as nails. In my opinion, best for special occasions or long getaways.
Red Carpet Manicure Color Dip Nail Color Dipping Starter Kit
If you buy something through our links, New York may earn an affiliate commission.