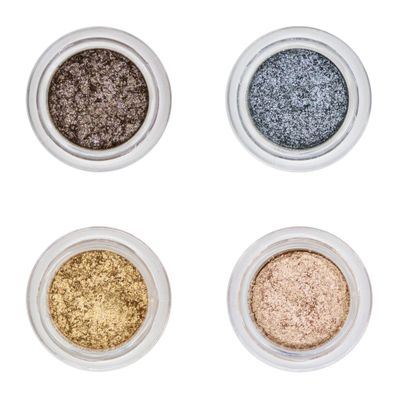 I've never been a very whimsical person. I don't like unicorns. I never believed in Santa. I never went through a fairy phase. But I can't stop using this one glitter eye shadow ever since I saw it on a friend's eyes at a birthday party.
It wasn't just any friend but a fellow beauty editor: Julie Schott of Elle.com. She came in looking great as usual, though notably more twinkly. Another beauty editor friend of mine, Cat Quinn of Refinery29, once said on Twitter that her new party trick was being able to ID the beauty products on a person's face. I wondered if I could do the same on Julie. Was it NARS? Diorshow Mono?
Makeup artist Katie Jane Hughes, who had worked with Julie on a shoot earlier that day, finally solved the mystery for me in an Instagram DM. "It's Bodygraphy!" she exclaimed. Two days later, the full range of glitter pigment from the indie professional brand landed on my desk.
Like all great beauty products, this one is best described using a bunch of adjectives that seem to cancel each other out. It's cushion-y, meaning it has bounce when you push into it. It's silky, so it feels smooth on the skin like a powder, but it's not loose like a powder. It's also supersaturated in the way that a loose pigment might be, yet you don't need a mixing medium or even a brush to put it on.
If that's all a little bit confusing, consider it an easier, amped-up version of Chanel's Illusion D'Ombres. The Cut's senior fashion market editor Diana Tsui is an infrequent eye-shadow wearer like myself, but she immediately smeared it on her eyelids and agreed, "This is great!"
It's all these adjectives together that make the experience of using the product so fun. I use my hand, swipe a little sloppily over my eyelids, and go on with my day (or night). A little bit looks great; a lot looks even better. The glitter isn't tacky or lurid: your eyes won't look like disco balls. Thanks to the densely packed texture and the nice selection of colors — from gunmetal gray-blue (Soiree) to a metallic brown (Caviar) — the shadow reads as sophisticated with a little extra oomph. You can buy one, but you'll honestly want to try them all.
If you buy something through our links, New York may earn an affiliate commission.