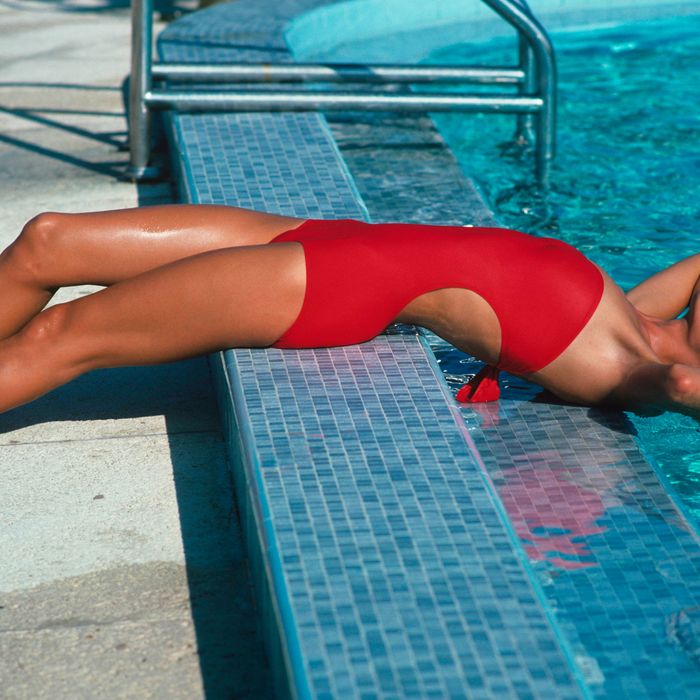 Photo: Arthur Elgort/Contour Style by Getty Images
Splashing around in a nice and refreshing pool? Fun. Shopping for a new bathing suit? Not so much. To make it painless, the Cut is devoting this week to finding you the perfect swimsuit.
When it comes to shopping for a new bathing suit, some people are die-hard bikini lovers and others are solely devoted to one-pieces. If you fall into the latter category, there's no better time to shop for one than now. The style has had a resurgence in popularity in the last few years — see J.Crew's relaunch of their signature low-back suit or the Baywatch reboot that launched countless red look-alikes as proof. And even if those styles aren't your speed, there are countless designers making cool, stylish options in every shade of the rainbow. Whether you want a simple black bandeau or prefer a racy cobalt number with cutouts, you can find it for $100 or less. Check out some of our favorites below.
One of the many Baywatch-esque options, at a very attractive price. That said, the fabric will be on the thinner side.
Amazon's in-house label offers up a simple black suit for less than $50. Take the reviewers' advice and size up — this suit runs a bit small.
So you're sick of solid-colored suits but you don't want a crazy pattern? Red roses against a black background is a nice compromise.
If you're pretty active but still want a fashion-y suit, this crisscross-back style will stay secure through any activity.
Here's another stylish suit that'll hold up during sporty activities.
This one-piece is reversible: The green flips to a bronze-y beige, so you can wear either side, depending on your mood.
A racy one-piece that even the most ardent bikini lover could appreciate.
Direct-to-consumer brand Summersalt is one of our favorite newcomers. Their swimsuits are minimalist and affordable, and offer the same compression as much more expensive suits, for a better fit.
This is one of J.Crew's best-selling suits and for good reason — the plunging neckline is not just sexy, it elongates.
Tuck this strappy number into a pair of shorts and you can hit the bar after a day at the beach.
Original Price: $175

Even if the farthest you're going is the local pool, this suit brings to mind colorful striped umbrellas at a luxurious Italian Riviera resort.
If you buy something through our links, New York may earn an affiliate commission.