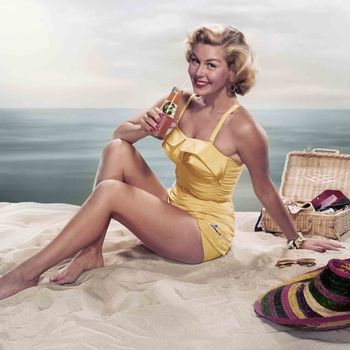 Photo: Tom Kelley Archive/Getty Images
Splashing around in a nice and refreshing pool? Fun. Shopping for a new bathing suit? Not so much. To make it painless, the Cut is devoting this week to finding you the perfect swimsuit.
Wearing a swimsuit combines my least favorite and absolute favorite things: Being mostly naked in public and cannon-balling. I've owned the same swimsuit for about 12 years. It's a polka-dot tankini that's never hurt anyone and has somehow managed to fit through about 60 pounds of weight fluctuation, traveling-pants style. Sure, I've tried on other suits here and there, but it's just led to a lot of frustration.
Let me explain: I'm a size 24. I'm most self-conscious about my back and love handles but I also have a pretty big tummy. But whether you're a larger woman like me, or a svelte size four, buying a bathing suit can make you question everything. They really expect me to expose this much skin? Why does this size fit me normally but now it's so tiny? Am I going to have to always find a trusted friend to pull up the back of this thing? How awesome do you think my cannonballs are gonna be in this one? (Okay, this last one is just me.)
I'm happy to say there were zero tears cried in reporting this article. I've found seven plus-size bathing suits that are actually flattering (really!). See ya, polka-dot tankini.
Even though the top isn't bra-sized (it runs 0x-3x) it still provides great support. It doesn't squeeze your back fat but instead creates nice and smooth lines, especially with the mesh under your bust. The high-waisted bottoms make you feel covered and comfortable if you're wary about trying a bikini while the netting inserts at the hips give them a sporty, fun feel.
If you're conscious about your stomach, the criss-cross detail at the waist nicely conceals the area. The halter strap feels sturdy so it's good for doing laps and you can remove it for a strapless look.
The color is really the major selling point of this super fun suit. I'm convinced the keyhole would be sexy on any chest size (revealing just the hint of skin) and the white lines taper your waist. Just be aware that you're showing all of your back in this one!
The underwire combined with the side boning give so much more tuck and lift than you'd expect in the suit, all without feeling restrictive. It makes your chest look great! This Matisse-esque number comes with those black straps, but it'd look amazing strapless too.
Photo: " "/Ryan Michael Kelly
This suit runs small, so definitely order a size or two up. But the great thing about it is that you can also order for different bra sizes (D/DD or E/F are the options). The unique hip detail offers a sexy pop in a place you wouldn't normally expect. And obviously the zipper is fun for deciding just how much skin you want to show.
The black lines really accentuates your curves, giving you a more pronounced hourglass look. The halter straps are also really long, so you can personalize your bow or let them hang down your back a bit. There are a few sizes left in this blue pattern for this suit too.
Look, what they say about black being slimming is so true. The buttons too do a nice job of making your stomach look tinier. And the white shoulders are both very cute and also flattering on your arms and back.
If you buy something through our links, New York may earn an affiliate commission.