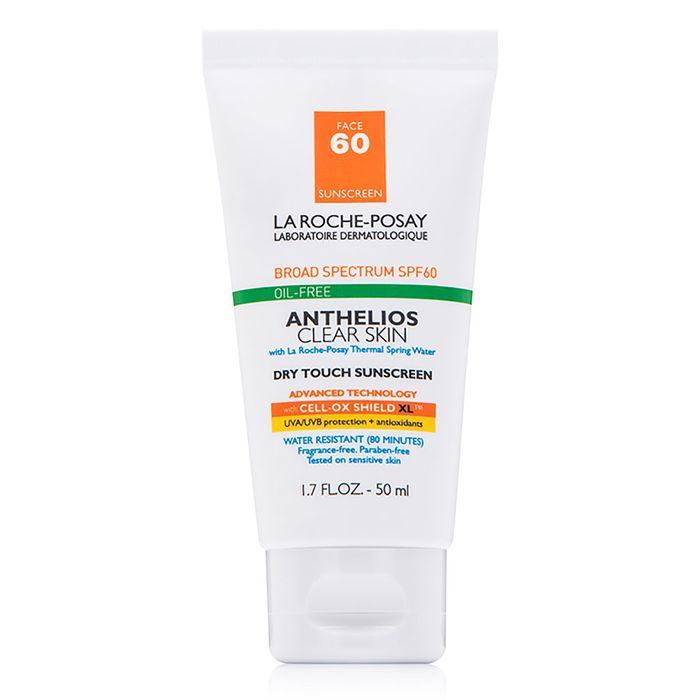 La Roche-Posay Anthelios Clear Skin Dry Touch.
Photo: f
Wearing face sunscreen often forces an uneasy question: Would you rather look bad now, or look bad later? Would you rather spread a filmy gloop on your face every day for the foreseeable future, or grow a sprinkling of wrinkles in 20 years? For vain people like me, these are more like threats than a set of disparate options.
There are plenty of fascinating new sunscreens that lie evenly on skin and appear invisible to the eye, like Glossier's Invisible Shield and Cover FX's Clear Cover are clear and pill-free, but they fall short on high UVA/UVB coverage (SPF 35 and SPF 30, respectively). And while neither makes skin appear greasy, they also don't prevent oil pools from developing on your face an hour after application. Only one sunscreen can produce matte, nongreasy skin for hours: La Roche-Posay's Anthelios Clear Skin Dry Touch Sunscreen.
Anthelios Clear Skin Dry Touch is the advanced option for people with seriously oily skin. The sunscreen is stubbornly matte — and stays matte for hours. With a creamy Elmer's glue–like texture, it is oil-free, fragrance-free, and paraben-free, and said to be safe for fussy, sensitive skin (though ultimately you'll have to determine that for yourself, since it contains four different forms of chemical SPF, which can be irritating for some).
Note that the sunscreen is not particularly easy to use. Once slathered across skin, it dries within seconds. This can lead to a precarious situation where splotches of white cream speckle your face. To avoid this you'll need to act fast: Spread it quickly over your face while avoiding your hairline and brows, where the formula will surely flake when dry. Then rub it on fastidiously to avoid that dreaded sunscreen-generated white cast. .
In the summer especially, many sunscreens can pull double duty as a moisturizer. Anthelios Clear Skin Dry Touch cannot. You'll need to apply a light moisturizer first, or in my case, an essence, which fulfills the role of a moisturizer without smothering skin. The sunscreen carries an SPF of 60, so it's certainly not wimpy, and at $15, it's pretty cheap, too. Sure, there are easier, less finicky sunscreens to wear, but none as protective or as matte. Besides, eliminating the vanity quagmire of choosing between great skin now or great skin later is worth the purchase alone.
If you buy something through our links, New York may earn an affiliate commission.