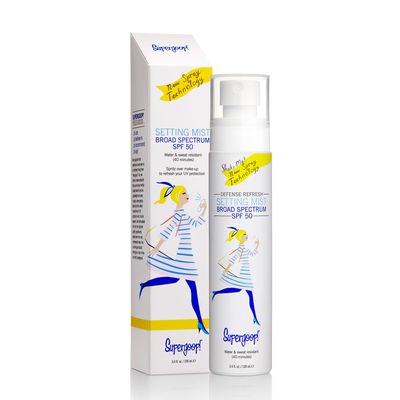 Supergoop Defense Refresh Setting Mist Broad Spectrum SPF 50.
Photo: Courtesy of Supergoop!
When I was in college, I read an interview in which Halle Berry waxed poetic about how she's worn SPF every day since her 20s. That was enough to sell the practice to me, even though, back then, sunscreen was essentially pore-clogging sludge. Was I protecting my skin? For a few hours, I was. But a sunscreen's effectiveness diminishes in a matter of hours. By the end of the day, it hardly blocks harmful sun radiation at all.
The FDA says to reapply sunscreen every two hours to mitigate this problem, but outside of the beach or pool that request takes on a delusional veneer. A glob of midday sunscreen messies makeup. It also is super inconvenient. A sunscreen spray, specifically made for the face, however, is easy and ideal.
There are a few sunscreens in this category on the market, and Supergoop's Defense Refresh Setting Mist is the best. For one, it's not terribly expensive (Kate Somerville carries a great face spray SPF, for example, but it's $10 more). It throws an appealing fragrance (I thought it was mint, but it is, in fact, rosemary). And the spray's SPF factor of 50 is nothing to snub on any account.
It's simple to use the sunscreen. Shake the can for a few seconds first. Then, close your eyes and tuck in your lips, and mist your face seven to ten times. Wait three seconds before opening your eyes again. I also make a point not to breathe during the few seconds I'm misting my face because of inconclusive data on the dangers of inhaling SPF. Supergoop doesn't explicitly recommend this in its instructions — I'm just painfully paranoid of abstract threats, like toxins and the search-results page on WebMD. (If you're super fearful, you can also spray the mist into your hands first, and then lightly pat your face.)
Supergoop's setting mist is different from a body-spray sunscreen in that it dries quickly with a mattelike finish. It doesn't necessarily stave off shine like a powder, but it doesn't encourage it either. More important, it doesn't disturb your makeup, and for someone like me, that alone makes it worth the purchase.