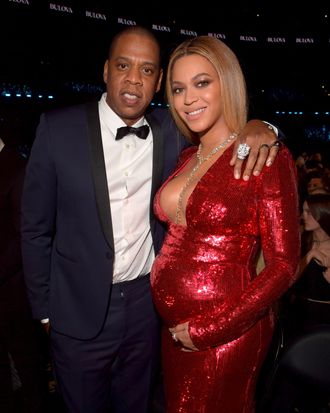 Photo: Lester Cohen/Getty Images for NARAS
Assemble the Beyhive, because it's time to celebrate.
On Saturday night, Us Weekly confirmed with multiple sources that Beyoncé gave birth to twins earlier this week. Media and fan speculation over when the Beybies would arrive had grown to a dull roar by the time the news broke, with some folks wondering if Obama had accidentally revealed the sex of the twins during a video tribute to Jay Z and others examining paparazzi shots of a hospital visitor bearing a bouquet with a card addressed to "B & J," along with pink and blue balloons shaped like baby feet. Beyoncé has been documenting her pregnancy in detail on Instagram, to the sheer delight of fans who have been privy to pics of her push party, Mother's Day celebrations with Jay and Blue Ivy, and general slayage.
Although no information has been revealed about the sex of the twins — we'll have to wait and see if Obama is off the Christmas card list for implying at least one of the twins would be a girl — we do know that people are shook. As well they should be.