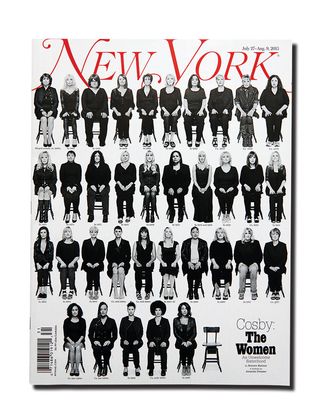 On June 17, a jury in Montgomery County, Pennsylvania, was unable to reach a verdict in a criminal sexual-assault case against Bill Cosby: Andrea Constand claimed that in 2004 Cosby had given her pills that rendered her unable to protest, then digitally penetrated her against her wishes. After days of deliberation in the courtroom outside Philadelphia, the judge declared a mistrial — ABC reports that there were two not-guilty holdouts among the 12, who are required to reach a unanimous verdict — and District Attorney Kevin R. Steele announced that he would retry the case as soon as possible. Cosby's team took the lack of a verdict as a victory: "Mr. Cosby's power is back," declared spokesman Andrew Wyatt.
The details of Constand's allegations were hauntingly familiar to those who had followed the accusations against Cosby over the past several years. In a 2015 story in New York, 35 women who had come forward to accuse Cosby of rape or sexual assault posed for the magazine's cover — alongside an empty chair, meant to symbolize the accusers not present, and all the women who have never spoken of their own assaults. To date, at least 60 women have made similar accusations against Cosby. Chelan Lasha, one of those women, explained to New York how going public had made her feel, a sentiment echoed in Wyatt's response to the trial: "I'm no longer afraid," said Lasha. "I feel more powerful than him."
A number of the women who spoke to New York are involved in their own pending civil litigation against Cosby. But they weren't able to press criminal charges; the statute of limitations had expired. And so Constand's case, some felt, would also serve as a verdict for them. Several even flew in for the trial. Victoria Valentino, Jewel Allison, Linda Kirkpatrick, Lili Bernard, Therese Serignese, and Barbara Bowman woke up at 5:30 each morning to line up for a seat in the courtroom. "I've been talking about this stuff for two and a half years," Valentino told me last week. "I wanted to see it completed, to come to fruition. None of us thought we'd ever see him go to trial, and we wanted to stand witness, to let Andrea know she wasn't alone, and let the world know we were standing in our truth." (Although the judge allowed just one other accuser to testify, jurors disclosed in selection that they were aware of the mass of accusations against Cosby; in 2005 testimony that was admitted as evidence in this trial, Cosby admitted to procuring quaaludes to get women to have sex with him.)
Many of the women have become activists. Valentino and Bernard were involved with a successful effort to end California's statute of limitations on rape and sexual-assault crimes. Through their work, they became close with Caroline Heldman, an Occidental College professor who accused Bill O'Reilly of sexual harassment earlier this year. She joined the group for the trial, an extension of what one of them described in 2015 as a "sorrowful sisterhood."
Bill Cosby's Accusers Tell Their Stories
For Valentino, seeing Cosby in person and listening to the details of the trial — which focused on what precisely was in the three pills the comedian gave Constand, inconsistencies in her account, and why she maintained contact with him after the alleged incident — triggered anger. "Justice for Andrea would have been justice not just for all of us survivors of his but all survivors of rape, all women." His spokesman's comment about Cosby getting his power back struck her as both a cruelly chosen word — "Rape is all about power and control," said Valentino — and simply incorrect. "He's still out on bail. Nothing much has changed, although no one will take a drink from him again."
Bernard — who like Constand accuses Cosby of having drugged her before an assault — had a deeply emotional reaction to the mistrial. "Andrea is so strong and gentle. She was consoling us when we started sobbing," said Bernard. "If so many people can come forward and still be disbelieved, the devaluation of women's voices is clear." Allison was more philosophical about the nonverdict. "In order for us to have justice, we have to have a just world," she said. "Pulling 12 strangers from different walks of life, who have different privileges, and getting them all on the same page is difficult. This is the first time in our history that we are openly dealing with rape collectively as a country. We have a lot more work to do, and in my opinion the onus largely is with men."
The women plan to come back for the retrial. "This was just the dress rehearsal," said Bernard. "Round two is coming up."
*This article appears in the June 26, 2017, issue of New York Magazine.