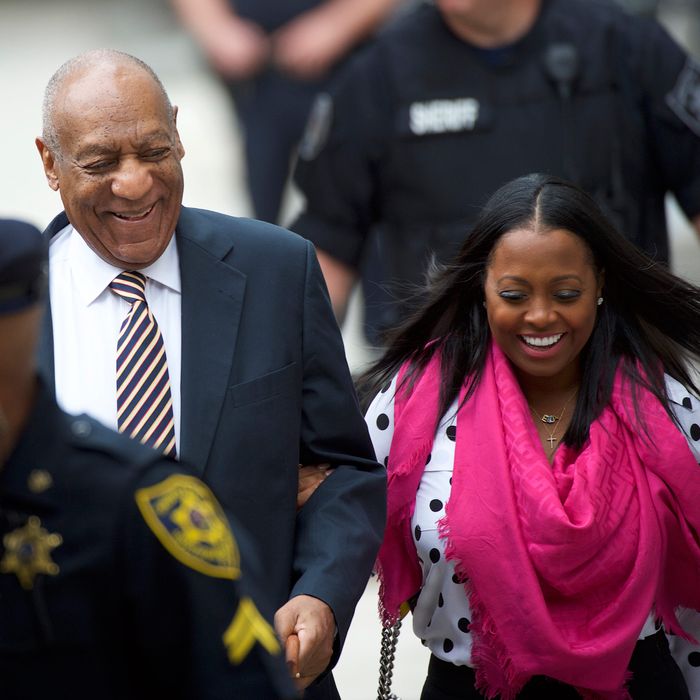 Cosby arriving in court on Monday.
Photo: Mark Makela/Getty Images
As Bill Cosby's trial for the alleged 2004 sexual assault of Andrea Constand gets underway today in Pennsylvania, Cosby showed up to court on Monday with a familiar face: actress Keshia Knight Pulliam, best known for playing his youngest TV daughter Rudy Huxtable on The Cosby Show. Cosby's lawyers had said part of their legal strategy would be to bring in "sympathetic voices" who would support Cosby, and it appears that more of his Cosby Show family will be in attendance. Cosby's spokesperson tells People that Cosby's TV wife Phylicia Rashad will appear at the trial.
The Thurgood Marshall College Fund's president Johnny Taylor will also be present at the trial; Cosby previously hosted the HBCU organization's gala in 2013. "Johnny feels Mr. Cosby has done so much for historically black colleges over his career and it's important for him to show that support and say 'Thank you' because he has not been found guilty of anything," the spokesperson tells People. "They're coming in to hear the truth. Keshia feels the same way. She's not here to proclaim guilt or innocence. She's here to finally hear the truth for herself in the courtroom. She wants people to stop listening to the sensationalism and come hear the truth." Check back on Vulture for ongoing coverage of the Cosby trial.