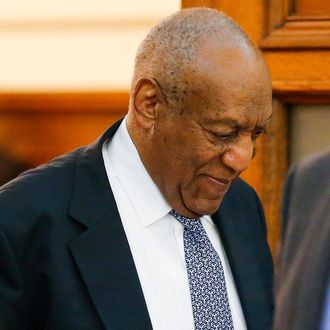 Cosby.
Photo: Pool/Getty Images
Last week, Bill Cosby's sexual-assault trial ended in a mistrial after jurors were deadlocked for days. (New information suggests they were leaning toward conviction.) And although prosecutors intend to retry him, Cosby has already gotten busy filling his schedule. In an interview on Good Day Alabama picked up by TMZ, Cosby's publicists Andrew Wyatt and Ebonee Benson announced that Cosby plans on touring this summer to teach people how to avoid being accused of sexual assault. According to their description, it appears the tour won't necessarily focus on sexual-assault awareness and prevention, but rather Cosby, who has been accused by more than 50 women of assault, will advise people — especially "athletes" and "married men" — on how to handle these kinds of allegations.
"They need to know what they're facing when they're hanging out at parties and doing certain things they shouldn't be doing," Wyatt says. Asked if the tour is a "do as I say not as I do situation," Benson adds: "The statute of limitations for victims of sexual assault are being extended, so this is why people need to be educated [that] a brush against a shoulder — anything, at this point — can be considered sexual assault. It's a good thing to be educated about the laws." Cosby's speaking engagements (or "town halls," as Wyatt calls them) are expected to begin in July. It's unclear how a retrial would affect the tour.