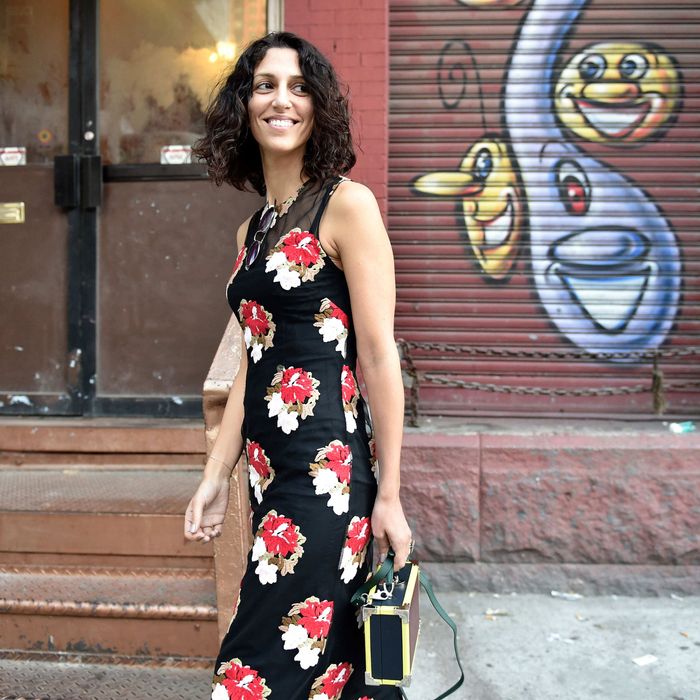 Yasmin Sewell in Simone Rocha.
Not every trend trickles down from the runway to your local mall but those that do tend to be everywhere. They wiggle their way into your brain until you start obsessively hunting for the perfect one. Now Trending is our weekly roundup of the thing that's been haunting you.
Earlier this spring, a few of us at the Cut coincidentally showed up at the office in very similar outfits across the span of a week. It was during a series of sunny, warm days where all you wanted to wear was a dress with some sandals. The twist was that we all chose one particular style: black and covered in bright florals. One was by Creatures of Comfort, another was from Zara, and a third was made by Tibi. Our hive mind isn't without merit — there's something about this striking combo that makes people take notice. It's the kind of dress that has strangers taking the time to drop a compliment or inquire where you bought it. And better yet, you can get the entire look for $100 or less. Scroll ahead to shop our favorites.
You'd never guess this cost $50 because it has so much detailing between the superfine pleats, asymmetric neckline, and subtle print.
A breezy '90s-inspired style you can wear alone or over a tee.
Off-the-shoulder dresses are still going strong so here's another option to add to your closet.
An easy, work-friendly dress you can throw on when you want to feel extra confident.
A cleavage-baring slit and extra-short hemline makes this dress especially great for a night out.
Original Price: $158
The genius of a maxi dress: It looks elegant with slides but has enough room at the waist that you can eat all you want.
Another breezy, '90s-inspired dress that will get you through the hottest summer days.
The puffy, dramatic sleeves on this dress give it an edge and differentiate it from the others on this list. Plus, it's on sale!
Original Price: $70
If you buy something through our links, New York may earn an affiliate commission.