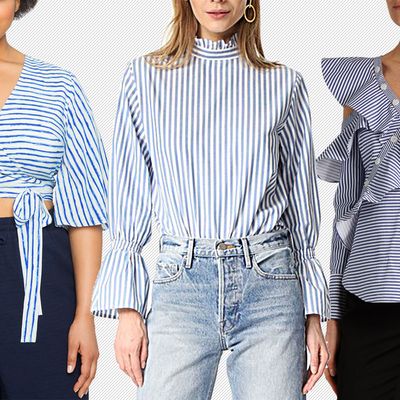 Not every trend trickles down from the runway to your local mall but those that do tend to be everywhere. They wiggle their way into your brain until you start obsessively hunting for the perfect one. Now Trending is our weekly roundup of the thing that's been haunting you.

Remember the blue gingham men's shirt that was everywhere two years ago? The one you saw on at least five different guys at the same bar? Well, welcome to the women's version of that trend. If it seems like blue-striped tops are in every store and all over Instagram, you're not seeing things. It's the product of a perfect storm of influences. Begin with the color — that shade of blue isn't a coincidence, it's one of Pantone's 2016 predictions (the other being millennial pink). Dubbed Serenity, designers like Monse, Balenciaga, and Off-White found themselves using it in their striped creations before it trickled down to your favorite fast-fashion spots. And since it's familiar (we've all owned a striped button-up at some point in our lives), it's easy to wear one and still feel like yourself — albeit a bit hipper. So if you're thinking you want to get in on this trend, scroll down to shop some of our favorites.
If you buy something through our links, New York may earn an affiliate commission.