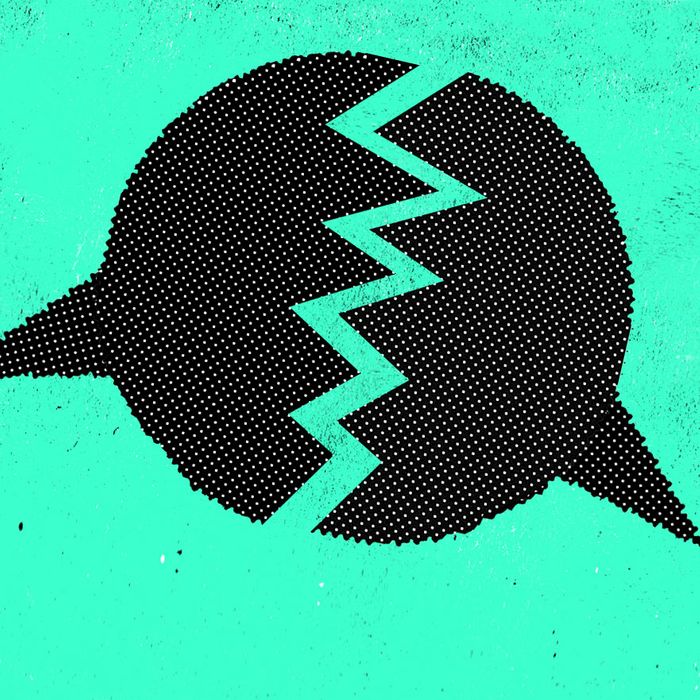 In Both Sides of a Breakup, the Cut talks to exes about how they got together and why they split up. Carly, 38, and Jackson, 37, met online, at very different stages in life: She had a son and he didn't have to work much to afford his rent-stabilized apartment. This is their story.
Carly: When I met Jackson, my son was 5. After his dad took off, I spent five years as a single mom. My son's father had addiction issues and anger issues; we were better off without him, not that it's been easy. I raised my son almost totally alone — though my siblings helped a little. Money was always tight. I have my own skin-care business, which has good and bad years. Financial stress was always there, but I never let it control us. During those years, it was almost impossible to date. I had to take care of my kid or work, that's all I had room for. Then Jackson came into my life.
Jackson: I guess you could say I'd had a series of good-enough relationships that didn't go anywhere. My last serious relationship before Carly was with a serious nut case. I loved her a lot and wanted to make it work, but everything was impossible with her. When I met Carly — on Bumble — it was nice to see someone so grounded.
Carly: Of course, the first thing I thought when I saw him was: Sexy. He's really sexy, long-ish hair, amazing eyes, great body without trying much. Looks-wise, he reminded me of Smith from Sex and the City. The comparison worked for his personality too — Jackson seemed very sensitive and vulnerable to me. The whole package was very attractive.
Jackson: We clicked. We were compatible.
Carly: I'm not sure if we were compatible. But we definitely had sexual chemistry.
Jackson: I couldn't wait to meet her son. I was really excited about her being a mom. Nothing about that deterred me. I have a ton of nieces and nephews, and I love kids. I ended up meeting her son on our second date. It was an accident: I picked her up at her apartment and she was running a little late and still giving him a bath, so I came in to wait and help out if I could. It was a lot of fun; I remember melting over this little guy instantly. I guess a part of me was like, Okay, this is a new kind of scenario. Hmmm … But none of it stressed me out.
Carly: I remember freaking the fuck out. Like, great, this is the first guy I've liked in over five years! He's hot as hell. And here I am bent over a bathtub washing my kid's ass. But what could I do?
Jackson: The short-story-short is that we got serious fast and started spending all our time together, the three of us. We stayed really happy for a year and change.
Carly: It felt great having a boyfriend. A giant weight was lifted off my shoulders because I had someone to talk to, someone to rely on, someone who fit with me and my son. Plus, the sex was incredible. It was kind of picture perfect, despite the untraditional-ness of it all. I guess the only issue from the very start was that Jackson didn't have a stable job. He's a super-talented photographer, but his work was a little unsteady. If I'm being honest, I thought maybe there was family money, and I hoped for that only because it meant I could stay with him forever. I didn't want to be with someone who couldn't contribute; I knew that would only lead to resentment. But there wasn't family money …
Jackson: I didn't make the kind of money she wanted me to, which bothered her way more than me. I feel like I'm lucky that I have a rent-stabilized apartment and work that I enjoy. In my eyes, there wasn't anything I couldn't provide for her or her son. Love, affection, adventure. I was devoted. Dollar signs weren't a thing as far as I was concerned.
Carly: It started to annoy me, big time, how little he worked, how rarely he thought about money or ambition. He'd do the littlest thing, like maybe smoke a joint with my friends, and I'd just boil over inside. Like, "You fucking stoner deadbeat!" Meanwhile, all my friends were also smoking and I'd be like, "Cool, love you guys." But I was conflicted — he and my son had gotten so close and there was so much I loved about Jackson too.
Jackson: She wanted to change this very innate quality about me, which is that I'm not driven by money. I'm not materialistic. I don't need fancy things. I just need good people, creativity, inspiration, honesty, a beautiful woman, a cold beer on my front stoop …
Carly: The Urban Cowboy thing got real old.
Jackson: I would have done anything to make it work, except get a terrible, soul-crushing job. And that was the only thing she ever wanted me to do. It got real ugly. She'd yell at me about everything. I went from this man she wanted to raise a child with to someone who couldn't do anything right. It all blew up when we talked about having another baby …
Carly: He wanted to get me pregnant. The idea was romantic, and of course it destroyed me to see my son lonely at home. (He has a lot of friends, luckily.) I was torn. I did not want to have another baby with another unreliable man. It was extremely traumatic the first time around, and I don't think I could handle a replay. Even though — ugh, this is what made it so tricky — Jackson was reliable in every single way other than his finances. It was such a hard call.
Jackson: It hurt that I wasn't good enough to have a child with. That made me love her less. It was just mean. Meanwhile, I felt like the father to the child she already had. The only good thing was that every time we fought, she assured me I could always be in his life. I trusted her on this. It's probably the only reason it didn't tear my heart out when we did break up.
Carly: I had this heart-to-heart with myself when I could tell things were going downhill … I knew that what killed me most was imagining him and my son going separate ways. So I just decided that would not happen. Once I gave myself permission to keep him around as my son's most important male figure, or best bud, or whatever you want to call it, I felt very liberated. Liberated to break up with him …
Jackson: We'd been together about a year and a half. She dumped me, like officially, at her house one night after we put her son to bed. She was just like, "It's over. You're not the person I'm supposed to grow old with. I'm sorry."
Carly: I think I said, "I can't explain it, but I know in my heart that we are not meant to be together forever." And then lots of I love you's, tears, kissing — and sex. One last and final time, sex. It was amazing, of course.
Jackson: It was a crazy-sad time after that. Thank god I could still hang with her son. It was weird at first, the three of us hanging out at playgrounds and meeting for pizza. Then it started to feel nice again. I remember us talking about dating again, like a month or so after our breakup. But it was surprisingly great to connect just as friends.
Carly: We are great friends now. He's probably my best friend. I'm dating someone new — cliché of clichés, a corporate lawyer — and they're actually friends too. I said to my new boyfriend, "This guy is the closest thing to a father my son has and that's not going to change." But there's always room for more love, more family. My son has a very happy life.
Jackson: It all worked out. She's in a great relationship with a great guy who makes a lot of money. He's a genuinely cool guy. I'm also dating someone new. She doesn't have kids, so it's back to a lot of partying and unpredictability. I liked being with a woman who had her shit together. It's something I miss. It would be great to find something in the middle. What's in the middle of a beautiful single mom and a Brooklyn partier?