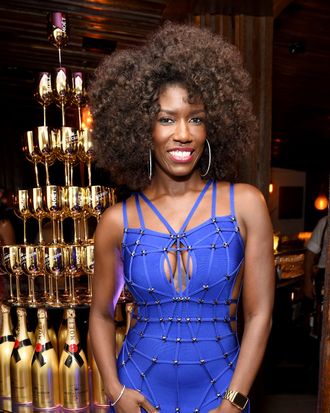 Bozoma Saint John.
Photo: Michael Kovac/Getty Images for Moet & Chandon
The Cut is reporting live from today's Forbes Women's Summit in New York City. Here's what you're missing.
On the first (first!) week at her new job at Uber, where she was hired to be the flailing company's new chief brand officer, internet favorite Bozoma Saint John said she doesn't see the company's recent litany of troubles as a "fire" she needs to put out. "I don't fear challenge," she said on stage at the Forbes Women's Summit in New York. (Today's challenges at the company include the CEO taking a leave of absence and a board member making a sexist joke at a board meeting about sexism.) "Working at Uber, I see opportunity and potential."
"I think women have a unique talent for being able to see the forest and the trees at the same time," she continued, when Huffington Post editor-in-chief Lydia Polgreen pressed her on how she'll fare at a company so currently mired in controversy. "We can see the bigger picture and the unique things that are happening and try to fix it."
Saint John came to Uber from Apple Music, where she became a viral sensation at Apple's Worldwide Developers Conference in 2016 for mocking developers' shabby relationship with rhythm. The executive said she wasn't worried about her decision to change jobs — "I've never made a move that I didn't feel was right in my gut" — but has taken lessons she learned in previous roles to her new company.
"I became a manager a long time ago. I was able to make decisions about interns and junior people who were joining the companies I worked for," she said, adding that it is important to take responsibility for these hiring decisions when you're in leadership, and to not push off tough diversity questions to someone else. "I don't hide the fact that I'm looking at women and I'm looking at women of color [for job opportunities]. I don't want us to look at leadership and say, 'Why aren't those changes being made? If you have the opportunity to hire, do it."