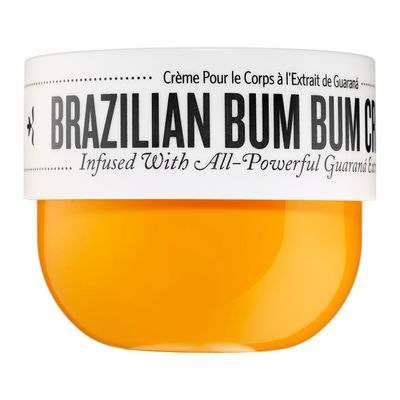 Does your butt need extra moisture? Probably not. If you were to ask dermatologists and beauty editors or anyone that's ever waited on a stinky, sweaty subway platform to do a need-based ranking of "essential" beauty products, butt moisturizer would probably rank in the last quartile, somewhere above kale nail polish but below mermaid hair dye. Your butt doesn't need special moisturizer. Its dry-skin needs are the same as the rest of your body. But what it probably would benefit from is something that smells really, really great.
That's where the Brazilian beauty company Sol de Janeiro succeeds, creating Bum Bum Cream, a butt cream that smells so great that it's become Sephora's best-selling body product, and has celebrities like Hilary Duff telling the New York Times that it simply "smells so good." Even Shawn Mendes tweeted (without being an #ad or in violation of FTC regulations), that it was the "best smelling cream in the world." One hyperbolic YouTuber even proclaimed that it smelled so good that she was confident she could spread it on her vagina and have it "regrow her hymen." Over 400 Sephora users mention its smell as a reason they bought the product (there are over 1,000 reviews on the product, period).
Indeed, the Bum Bum cream does smell pretty fantastic. In perfume-y nerd speak, Bum Bum smells like a gourmand fragrance. In non-nerd speak, it smells like something you would want to eat — a creamy, warm dessert made from scratch and like a mix of pistachio, buttery caramel, and nuts, with the key word being delicious (unless you have a nut allergy). It also smells like musk, so picture that dessert mixed with a little bit of warm laundry scent. In a world where lots of body beauty products smell either sort of fig-y, fake coconut-y, citrus-y, or terrible versions of vanilla, it's a uniquely yummy scent.
Despite being named Bum Bum cream, which is more smart marketing than anything else, the cream is also obviously usable as an all-over body lotion. As a lotion, it does a pretty good job, with a thick but silky cream containing a little glittery mica, coconut oil, cupuaçu butter, and açaí, that easily glides onto the skin and acts as a nice moisture barrier. A touch of guaraná, an Amazonian plant that contains potent caffeine, is also in the formula and purportedly helps tighten your skin. But really, it's all about the smell.