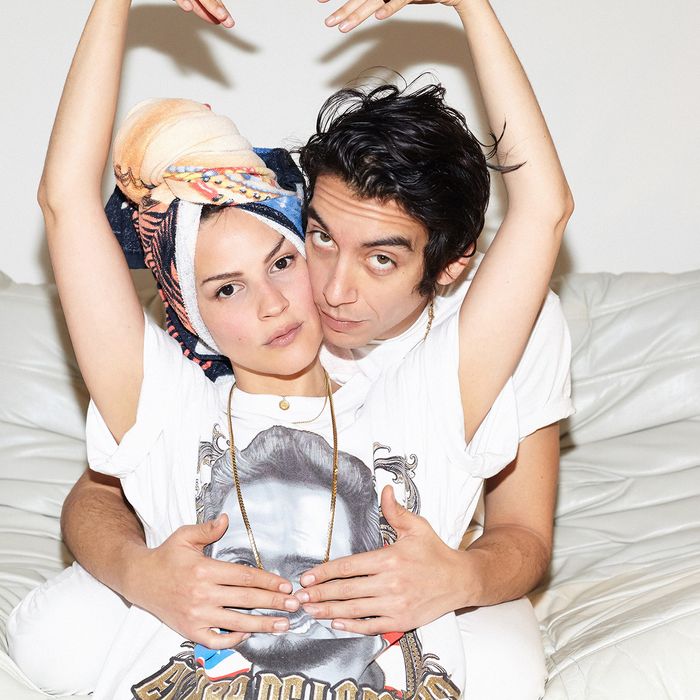 Buscabulla.
Photo: Quique Cabanillas
That's a Bop is our monthlong effort to introduce you to artists and songs beyond the top-ten list. In Up Next we're giving you a deeper look at this year's up-and-comers, so when your friends finally discover them, you can honestly say that you prefer their first album.
Buscabulla's Raquel Berrios is on the road with her partner and bandmate Luis Alfredo Del Valle and their three-year-old daughter, Charlie. "We're on our way to Hancock, New York," she says over the phone. "Have you been? (No.) There's this gallery owner you might know (I don't), Gavin Brown and he started a summer restaurant, Uncle Brother, with Rirkrit Tiravanija, this really important Thai artist, have you heard of him? (Nope.) She goes on to describe how they are all friends, and staying in a house, and hip thing upon hip thing into an infinity of hipness.
It should be clear by now that the Berrios and Del Valle, the couple who make up Latin American electro-pop band Buscabulla, are very cool. Overwhelmingly cool. They are a Puerto-Rican born, Brooklyn-dwelling couple. They have a steal-worthy aesthetic and style. Both are designers (she used to design textiles) who moonlight in a band that's actually good (like summer tour and sold-out-shows-in-small-theaters-in-L.A. good). They mash together a sort of Frank Ocean-inspired lounge vibe with their own Latin American heritage and knowledge of Latin American and Caribbean rhythms. A knowledge mostly culled from Berrios' time as a DJ and Brazilian record shop employee.
Actually, scratch that — they are infuriatingly cool. Thank god their music is so good, or it'd be unforgivable.
Before they met in 2011, both Berrios and Del Valle had music in their veins, she says. She was an avid record collector (only Latin American music) and he had studied music and music production. They got together, Del Valle encouraged her to start making something, and Buscabulla was born. Then, in 2013, they won a contest through Guitar Center (yes they can even make that look cool) and Converse, and their first EP was produced by Dev Hynes. Now, four years later, they are touring Peru, Chile, Costa Rica, and the Dominican Republic, and selling out shows in L.A. and Brooklyn. They just put out their second EP, EP II. 
Buscabulla makes what they call "Caribbean music of the future." They combine salsa and reggaeton, merengue, bachata, and calypso, all of their favorite sounds, with what they are hearing on the radio — it sounds like a more highbrow, original, and more knowledgeable "Passionfruit," if there must be an analogy to something you've heard. Their sound — minimalist, tropical — is actually all over the Top 40 right now, I point out.
"Oh you mean like 'Despacito,'" Berrios jokes. "We love Bieber! We love Drake, we love Frank Ocean and DJ Khaled. We love Kayne. We love all of these people that are doing interesting things in pop right now. But we have one foot in Puerto Rico and one foot here. I only collect records in Spanish or from Latin America or the Caribbean. I'm listening to everything from salsa to calypso, to samba, to merengue, to obscure Brazilian indigenous stuff, to rare Cuban records from the '60s and '70s. When we combine these two things, you get something new and still sort of relevant."
This really comes through on their second EP. They sing entirely in Spanish with popular Spanish slang (Buscabulla is a term for "troublemaker") and sing a duet with Ecuadorian singer-songwriter Helado Negro. And while there are touches of modern pop, the songs feel like love songs to their home and their culture.
"We want you to be able to dance to our music, but we're not making pop tracks that are hot for a few months and then they are out. We are really trying to do something that's new and different and will withstand. We're combining our Latino essence. It's a neo-bodiqua sensibility, it's a new breed," she says.
After more shows around New York, Buscabulla plans to leave New York and make their full length album. Next stop: Puerto Rico. "New York is great, but you have to learn when to walk away. You can really feel like you're a hamster in a wheel. The rent is cheaper in Puerto Rico and we can focus on our creative endeavors."
Sounds cool. How long till the rest of Brooklyn follows them?