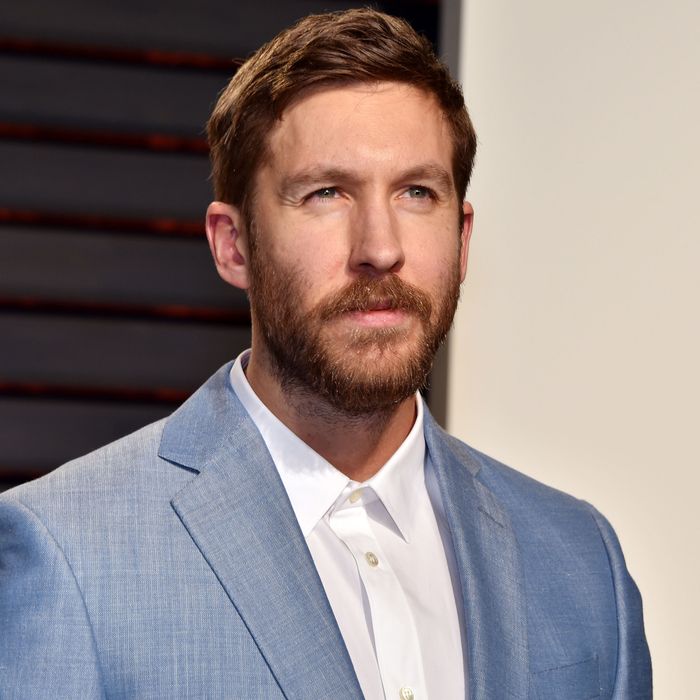 Calvin Harris.
Photo: 2017 Getty Images
There comes a time in the life of every ex-boyfriend of Taylor Swift when he must sit down for a lengthy profile in a men's magazine and talk about how hard and difficult it was trying to conduct a relationship under the watchful gaze of the paparazzi. Now, it's Calvin Harris's turn.
In an interview with GQ UK, the DJ says he regrets the way he conducted himself online after the breakup. As you may remember — though I don't blame you if you don't — after Swift leaked that she had co-written his hit "This Is What You Came For" under a pseudonym, Harris lashed out at the singer on Twitter, writing: "I figure if you're happy in your new relationship you should focus on that instead of trying to tear your ex-BF down for something to do."
"It was completely the wrong instinct," he told GQ. "I was protecting what I see as my one talent in the world being belittled. It felt like things were piling on top of me and that was when I snapped."
He went on:
"It's very difficult when something I consider so personal plays out very publicly. The aftermath of the relationship was way more heavily publicised than the relationship itself. When we were together, we were very careful for it not to be a media circus. She respected my feelings in that sense. I'm not good at being a celebrity. But when it ended, all hell broke loose. Now I see that Twitter thing as a result of me succumbing to pressure. It took me a minute to realise that none of that matters. I'm a positive guy." Another pause.




"For both of us it was the wrong situation. It clearly wasn't right, so it ended, but all of the stuff that happened afterwards…" The sentence drifts off into oblivion.
Now, where is Calvin's Bolognese recipe?