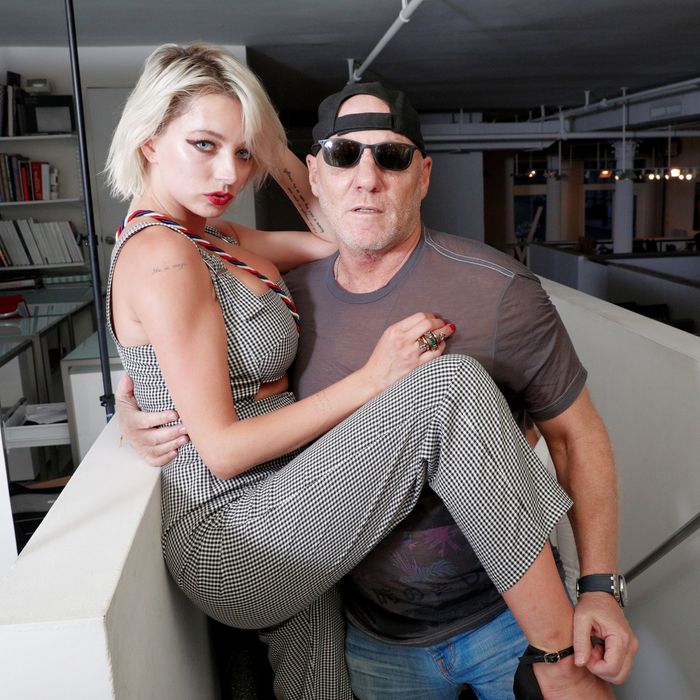 Caroline Vreeland and Steve Madden.
Photo: BFA
Here are a few lessons I learned last night at Steve Madden's pizza party: Caroline Vreeland can really dance in platforms, kilts may be poised for a comeback, and the latest "It" girl choker looks like a horse bridle. Madden hosted the event with V magazine to fête Vreeland as the brand's new campaign face.
Walking through V magazine's headquarters, I wondered: Since when do office parties include Chelsea Leyland and Anna Cleveland? Is pizza still "lowbrow" when it's served in stylish, hot-pink "Caroline Vreeland x Steve Madden" pizza boxes? I grabbed three slices and eyed a Jersey Boys movie cast member in a corner. Rich kids of Instagram continued to waltz in wearing kilts, a chain-mail dress over black lingerie, horse-bridle-inspired chokers, and one jumpsuit like Vreeland's with a quilted Chanel bag.
Vreeland — musician, actress, and the great-granddaughter of Vogue editor Diana Vreeland — wore a cutout jumpsuit by Danielle Bernstein of We Wore What ("It keeps the tits in!" she explained) and introduced herself with a hug. She plays Steve Madden's muse in the campaign with hopes of helping design a collaboration.
The first campaign, the impetus for last night's soirée, focuses on platforms — Madden told the Cut it's the one piece he thinks more people should be wearing. Vreeland danced heroically in sky-high platforms in the new campaign video. "When we were shooting I had to dance in them for eight hours and it was very scary," she said. "I wanted to wear them tonight, but I knew I was going to get lit so I didn't want to fall." She kissed my cheek good-bye and disappeared into a crowd of kilts, chokers, and chain mail.