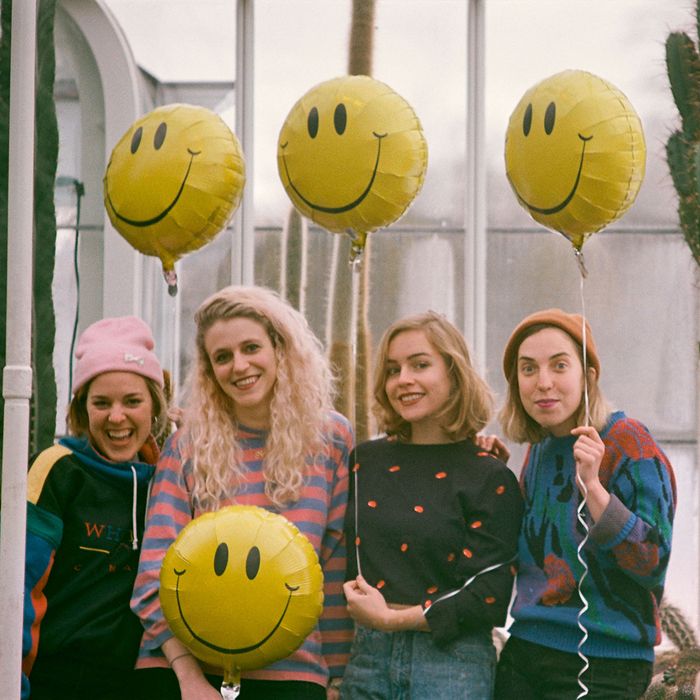 Chastity Belt.
Photo: Conner Lyons
This summer, every festival lineup and radio station will inevitably feature the same predictable artists. That's a Bop is our monthlong effort to introduce you to artists and songs beyond the top-ten list.
Seattle's Chastity Belt has all the trappings of people who are too cool for feelings. The onetime college band tends to get name-checked whenever someone mentions grunge revival; they make oversize thrift-store flannel look exceptionally good, and in the past, they've reveled in a certain nonchalance, with tongue-in-cheek songs like "Cool Slut," the coolest discussion of sex-positivity ever.
But on "Different Now," the band — made up of singer Julia Shapiro. guitarist Lydia Lund, bassist Annie Truscott, and drummer Gretchen Grimm — allows caring about stuff just as cool as oversize flannel. The first single off their sophomore album, I Used to Spend So Much Time Alone, is a song made for introspection, for moody days, or for Sunday morning comedowns. It's a simple little rock song — the lyrics "You should take some time to figure out your life," give you a prompt and the the steady, fuzzy strum and basic rhythm lull you into your own thoughts so you can figure it out.
I Used to Spend So Much Time Alone is out now on Hardly Arts.