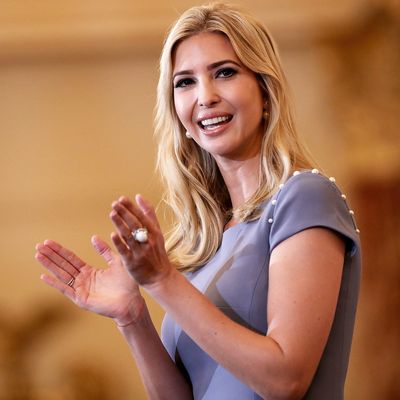 The activists investigating a factory where Ivanka Trump's shoes are made have been released.
Photo: Win McNamee/Getty Images
On Wednesday, three activists with China Labor Watch who'd been detained while investigating conditions at Huajian Group factories — which manufactures Ivanka Trump–brand shoes — were released on bail, according to NBC Washington. Before their arrest, they were reportedly preparing to release a statement alleging low pay, excessive overtime, verbal abuse, and possible misuse of student labor at the factories.
Li Qiang, the founder of China Labor Watch, recently told the Associated Press that workers at Huajian's factory in Ganzhou, a city in southern China, were paid as little as a dollar an hour (in violation of the country's labor laws) and given as few as two days off a month. He added that Huajian forced workers to sign fake pay stubs with inflated salaries and threatened to fire them if they didn't lie about working conditions there.
One current and two former Huajian employees, all of whom spoke on condition of anonymity, said beatings of workers "were not unheard of," and recalled an incident when a manager hit an employee in the head with the heel of a shoe. The current employee added that, if workers don't meet their impossible production quotas, they don't get paid their full salary.
China Labor Watch said it notified the brands whose shoes are made at the factory — including Ivanka Trump's — of these sorts of labor violations, but Ivanka's brand didn't respond. In a statement earlier this month, Ivanka Trump president Abigail Klem said only that the company that licenses Ivanka's name to make the shoes "works with many footwear production factories, and all factories are required to operate within strict social compliance regulations." She added that Ivanka Trump shoes hadn't been produced at the factory since March — a claim belied by an April production schedule, which called for nearly 1,000 pairs to be made in May.
Other than that, the First Daughter's brand hasn't gotten involved in the plight of the activists, although U.S. officials did call for their release. Now that they're out of detention, the three men will be tried in court for using secret recording devices and attempting to disrupt commercial operations.