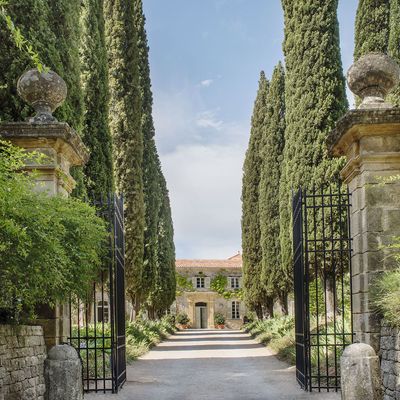 Dior's Château de La Colle Noire.
In 1950, Christian Dior purchased a 124-acre estate in Provence to escape his busy life in Paris. The property became Le Château de la Colle Noire, where Dior spent afternoons cultivating gardens with May roses and jasmine — florals that he often bottled for Dior's fragrances. The designer used his sanctuary to entertain friends, models, and artists like Bernard Buffet, Marc Chagall, and Marie-Laure de Noailles.
The photography book Christian Dior in the South of France: The Château de la Colle Noire, published by Rizzoli, features archival photographs, manuscripts, letters, and rare testimonials that convey Dior's deep connection to the estate and the Provence region. The book's release was timed with the completion of a four-year-long renovation of La Colle Noire last month.
The tree-lined estate now looks as Dior originally designed it, complete with luxe 18th-century-style interiors and a reflecting pool that recalls the garden of Les Rhumbs, his pink-walled childhood home in northern France. Original objects, like a 1950s telephone, mark the estate with the designer's personal flair. "I think of this house now as my real home," Dior once said about La Colle Noire, "the home to which, God willing, I shall one day retire." He did, until his death in 1957.
The tome includes illustrations by Jean-Philippe Delhomme that reimagine the designer lounging alongside models at the château's pool, dining with journalists and photographers, and walking with Marlene Dietrich at Cannes. It concludes with a travel guide of Dior's South of France, including spots where the designer liked to stop while driving through Provence in his convertible. Click ahead to preview images from the book.
If you buy something through our links, New York may earn an affiliate commission.