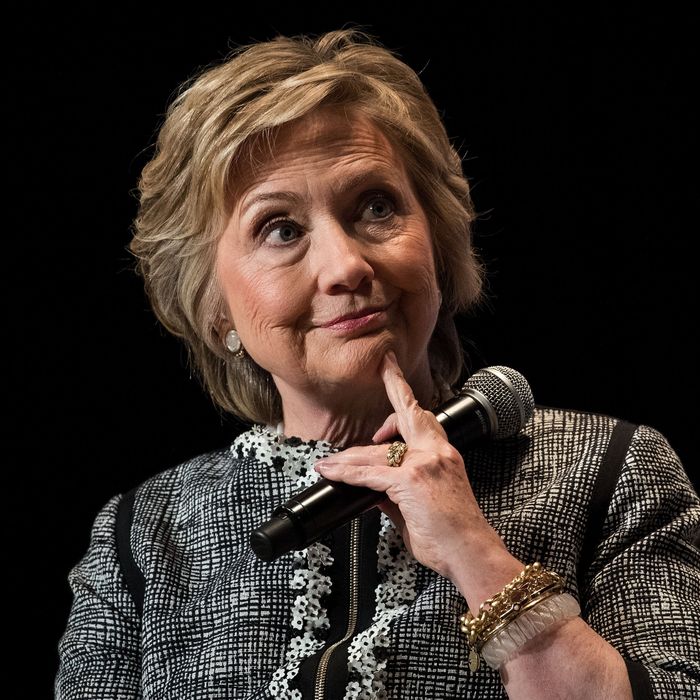 Hillary Clinton.
Photo: Drew Angerer/Getty Images
It's pretty hard to upstage the powerful speeches given by all the recipients of the annual Women in Film Crystal & Lucy Awards, given out at the Beverly Hilton on Tuesday night with sponsors Max Mara and BMW: budding actress Zoey Deutch, director Mira Nair, TV star Tracee Ellis Ross, and actress/director Elizabeth Banks burned up their prompters, as did their equally loquacious presenters: Lupita Nyong'o, Aisha Tyler, and Universal chairwoman Donna Langley. In fact, every year, many in the heavy-hitting crowd of execs, writers, directors, and producers — including Robert Redford and honoree Dan Rather — get teary-eyed with all the talk of mentoring and inspiring women. It's in the same Beverly Hills ballroom as the Golden Globes.
But the most omnipotent women at WIF this year turned out to be the ones who weren't there: Wonder Woman was the leading woman (and moneymaker) on everybody's lips — but the film's director Patty Jenkins was somewhere else promoting it. And it was three unexpected, unannounced videos from three women who persist in politics — California Senator Kamala Harris, former First Lady Michelle Obama, and former secretary of State Hillary Clinton — that stopped the room, appearing to hit the Hollywood crowd the hardest.
Senator Harris gave a shoutout to friend (and activist) Banks for taking home the Crystal Award for Excellence in Film, with Harris admitting via video to her self-described "womanist" constituency: "People say — 'Talk about women's issues!' — I say, 'Okay! Let's talk about the economy.' That's a woman's issue. And climate change. And reproductive rights. Women should not be relegated to stereotypes and tropes!"
Michelle Obama's surprise taped intro lauded the mentorship and activism of Lucy Award–winner Ross: "Tracee, you are brilliant, you are hilarious. And the work you're doing off screen is just as important. Congratulations! And see you on the dance floor."
But former candidate Hillary Clinton had the most resounding words — and last laugh — of the night, in her pink-suited video to her supporter/campaigner Banks: "Now, I haven't seen Wonder Woman yet — but I'm going to, directed by a fabulous woman. And something tells me the story of a strong woman battling evil men is right up my alley."