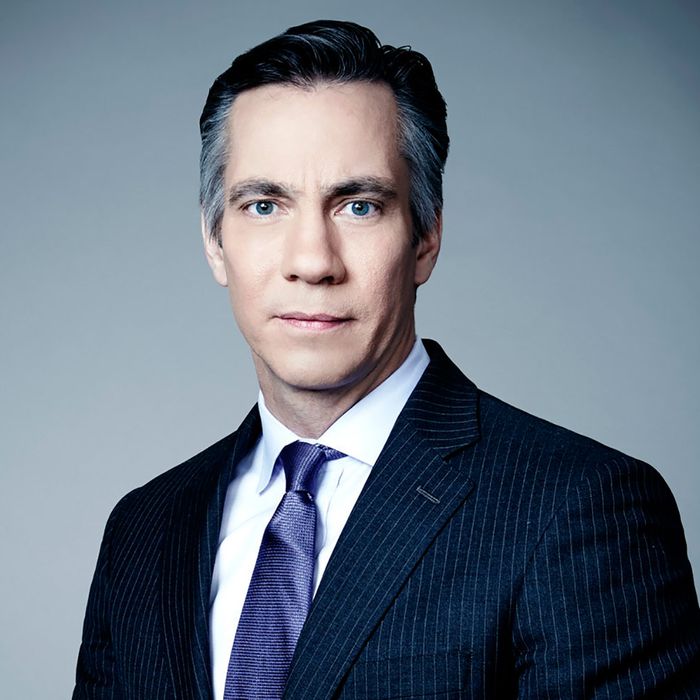 Jim Sciutto.
Photo: Courtesy of CNN
Jim Sciutto, CNN's chief national security correspondent, has lived all over the world and reported from more than 50 countries. But now, the native New Yorker and his ABC News correspondent wife, Gloria Riviera, live in Washington, D.C., where they juggle their busy careers with raising three young kids. Sciutto, whose documentary The Russian Connection: Inside the Attack on Democracy, recently aired on CNN (and can be viewed online on CNN Go), chatted with the Cut about parenting, staying healthy on the road, and that time Washingtonian named him "The Hot Dad."
How I start my morning: We have three kids — an 8-year-old, a 6-year-old, and a nearly 2-year-old — and that means mornings sometimes start in the middle of the night for us. The older kids tend to climb into our beds around 4 or 5 a.m., and the younger one sleeps pretty well, but last night she was coughing and I ended up sleeping on the floor next to her crib around 4:30 a.m. That's a sort of a typical morning before the morning, and then later everyone wakes up. My wife works as well — she's a journalist at ABC, so you've got two working journalists — and it's like getting a little army in motion: feeding, dressing, trying to mediate fights, getting everyone out the door.
Typically our CNN editorial meeting is at 8 a.m. and then there's another one at 9 a.m., so I've also got to check in with the office during the morning on where I think I'm of going today in terms of my reporting. We try not to use our phones around the kids because we're so conscious of that mode that we go into when we're on our phones — where you're just in another world — so what I'll normally do is, I'll steal away for about five minutes and send a note or two to folks to let them know what I'm thinking; then I'll come out and continue to battle, and go back ten minutes later to check to see if my bosses got back to me. So I think the perfect term for the morning is: organized mayhem.
On healthy eating: In addition to having a wife who's health-conscious and good about eating well, a few years ago when we were living in China, we got this trainer who was really more than just a guy in the gym beating you up to work harder. He really changed the way we eat and the way we sleep. For me, especially as a guy in his 40s, he gave me some simple rules to follow. Oatmeal, he told me, is just a rock-solid breakfast that's easy to make. Sometimes, if you have more time, we'll do eggs or those kinds of things. For lunch and dinner, he gave me a rule that I don't follow all the time but I try to follow as often as I can, which is that two-thirds of your plate has to be vegetables (and obviously you don't want that last two-thirds to be three slices of pepperoni pizza). My wife is really good about starting those habits young for our kids. It's not like the kids are vegan — they just eat healthy stuff in the morning, and that's normal for them. They're not fighting us to serve them Froot Loops in the morning. To be totally honest, we break the rules all the time because we're not crazy and you have to do that. Sometimes we'll run down the street to get waffles — I like pancakes as much as my boys do. So it's not religious, but we've found that if you stick with those general rules, it makes a big difference for us.
How I sweat: My wife and I try to give each other time to work out, but you can never get enough. We try, as a rule of thumb, to exercise three or four times a week. For me, that's a combination of runs — I just went for a run this morning after we dropped the kids off — and going to the gym. We don't use a trainer anymore, but I use a rowing machine a lot because it's full-body and it's really good cardio concentrated in a short period of time. If you do 2,000 meters in 7 minutes, that's better than a slow jog on the treadmill for 30 minutes. So that's always a part of my gym routine, plus weights and other core exercises — that's another thing that, as a guy, until someone tells you to do it, you probably don't do it. But when you do do core exercises, you realize you need it.
How I keep up with wellness on the road: What's funny is that, now that I have kids, when I travel I get more time to exercise than I do when I'm home. It used to be that when I had trips abroad, my break was, "Oh great, after we finish this story, we'll go have a couple of drinks." Now when I go on trips, my dream is to get eight hours of sleep and work out in the morning. On certain trips, you're working 18-hour days where you're lucky if you can get a couple of hours of sleep. All bets are off. But on other trips, you find the time. I always pack my sneakers, no matter where I'm going — even if I'm going to a war zone, I've got workout clothes in there, because you can usually find a way. I also bring good snacks because road eating is almost never healthy, since you just eat when you can and you don't have a lot of control. Traveling with the military, in particular, is like eating at a fast-food buffet. So I bring cashews and almonds.
On being named a "hot dad": Well, I question their editorial judgment. [Laughs.] Listen, that was very nice of them. I appreciate it, and I'm still getting grief from my friends about that. That was one of those pieces where they were looking at how you balance a personal life and a crazy professional life: kids, a marriage, staying healthy. So I don't know that I qualify as a "hot dad," but I'm a happy dad, for sure.
How I unwind after a stressful day: I'd like to say that my wife and I sit back and read good books, and we do — I'm looking at our bedside tables right now, and her stack of books is always higher than mine — but when I come home sometimes I just need my brain to stop functioning. We do a lot of Netflix, and most of the time we have one or two series that we're both watching, and then we have the ones that only I will watch or only she will watch. Recently we watched The Crown. Not to say we're Anglophiles, but we lived in London for a number of years. Both my older boys were born there. So that kind of stuff brings back memories. We both really like Master of None and just finished the second series of that. What is funny about that series is that actually, it made me feel old. I'm in my mid-40s, and when I was single some internet dating was around but it definitely wasn't what it is today. So that was one of those generational things where I was like, okay, I can look at that and say I have no experience with that. Obviously I have lots of friends who have gone through it, but it sort of makes you feel like your parents.
My best wellness advice: Good sleep, exercise, eat well, and take good breaks — that last one is really important. We need quality time with the people we love. We need quality time with ourselves. We need time with our friends. For the first 20 years of my professional life, 15 or 16 of those I spent overseas as a correspondent. All over Europe, Asia, the Middle East, Africa. I was on the road all the time, and that was a fantastic experience and I wouldn't change it for anything. But coming back more to a grounded situation, you realize the value of quality time with friends and family. Some of the happiest people in the world are the ones who have good relationships.
My biggest wellness struggle: It's hard to get sleep because of my busy work schedule and three young kids. Seven hours is ideal, but I would say a typical night is between five and seven hours of sleep. I have three sisters and they all have kids, and my oldest sister said, "You know, when I had kids, I just decided I'm not going to sleep for 18 years." There's probably a bit of truth in that, but you can't really let that happen.
This interview has been edited and condensed.