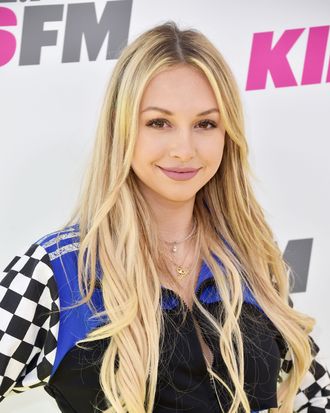 Corinne Olympios.
Photo: 2017 Getty Images
In a surprise announcement earlier today, Warner Bros. stated that it would resume filming Bachelor in Paradise after an internal investigation into the "allegations of misconduct" made on set this month. In the last week, several outlets have reported that producers filmed BIP contestant DeMario Jackson engaging in a potentially nonconsensual sexual encounter with contestant Corinne Olympios, but now reps for Warner Bros. say no misconduct occurred. Marty Singer, Olympios's lawyer, told the Cut he plans to continue his own investigation into the scandal.
"It needs to be made crystal clear that production of Bachelor in Paradise was shut down because of multiple complaints received from BIP producers and crew members on the set," Singer said in a statement. "It was not shut down due to any complaint filed by Corinne against anyone. It comes as no surprise that Warner Bros., as a result of its own internal investigation, would state that no wrongdoing had occurred. Our own investigation will continue based on multiple new witnesses coming forward revealing what they saw and heard."
Last week, Olympios released a statement through Singer, expressing that she felt wronged by what happened on set in Sayulita, Mexico. "I am a victim," she said.
Warner Bros. and ABC, however, are ready to move on from the allegations. Here is the statement from Warner Bros., released earlier today:
As we previously stated, we recently became aware of allegations regarding an incident on the set of Bachelor in Paradise in Mexico. We take all such allegations seriously. The safety, security and well-being of the cast and crew is our number one concern, and we suspended filming so that the allegations could be investigated immediately and thoroughly. Our internal investigation, conducted with the assistance of an outside law firm, has now been completed. Out of respect for the privacy interests of those involved, we do not intend to release the videotape of the incident. We can say, however, that the tape does not support any charge of misconduct by a cast member. Nor does the tape show, contrary to many press reports, that the safety of any cast member was ever in jeopardy. Production on this season of Bachelor in Paradise will be resuming, and we plan to implement certain changes to the show's policies and procedures to enhance and further ensure the safety and security of all participants.
ABC responded by thanking the studio for its "swift and complete investigation."