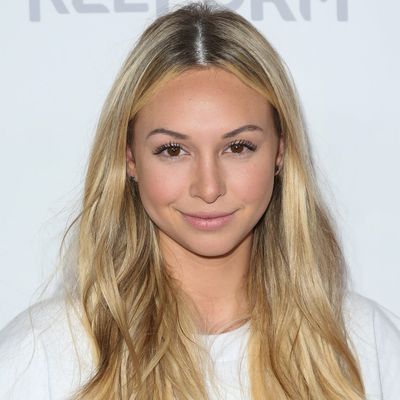 Corinne Olympios.
Photo: 2017 Paul Archuleta/Getty Images
Bachelor in Paradise contestant Corinne Olympios has just released her first official statement on the allegations of "misconduct" that caused Warner Bros. to shut down production on the show in Sayulita, Mexico last week. Several media outlets reported this week that producers filmed a sexual encounter between Olympios and contestant Demario Jackson, and that Olympios may not have been able to consent to the encounter due to extreme intoxication. In a statement to New York, Olympios confirmed that she feels wronged by what happened. "I am a victim," she said, adding that she is now in therapy for "physical and emotional trauma."
I am a victim and have spent the last week trying to make sense of what happened on June 4. Although I have little memory of that night, something bad obviously took place, which I understand is why production on the show has now been suspended and a producer on the show has filed a complaint against the production. As a woman, this is my worst nightmare and it has now become my reality. As I pursue the details and facts surrounding that night and the immediate days after, I have retained a group of professionals to ensure that what happened on June 4 comes to light and I can continue my life, including hiring an attorney to obtain justice and seeking therapy to begin dealing with the physical and emotional trauma stemming from that evening.
TMZ first published the statement and reported that Olympios has hired famed attorney Marty Singer. So far, she has not filed suit against Warner Bros. or Jackson. Olympios did not address Jackson in her statement.
A source close to Olympios told New York that she is "not in great shape."

"Something went down, and it wasn't good," the source said. "You don't suspend or cancel production because you might have gone an hour over or people took such an extended lunch hour, you just don't do that. Something had to happen, and it wasn't good."
"When you go down there on location, you have to give up your phone so she couldn't call anybody," the source continued. "She couldn't talk to anybody. She doesn't know what's going on. She doesn't remember what's going on. She had been drinking, and there's a difference between passing out and not knowing what's going on when you're drinking." The source added that Olympios has not seen any video footage of the incident.
On Tuesday, a crew member on Bachelor in Paradise provided a horrifying account of the encounter between Jackson and Olympios to the Daily Mail. The crew member said that the contestants had a sexual encounter in a hot tub after a day of heavy drinking, and that Olympios "seemed to go limp" during it. (A Warner Bros. source told the Cut that the studio disputes the assertion that Olympios went limp.) The crew member also alleged that after the incident, production staff declined to call paramedics or seek any professional help for Olympios.
The Cut has reached out to Jackson and a representative for Warner Bros. for comment, and we will update this post as more information becomes available.
Maria Elena Fernandez contributed reporting.