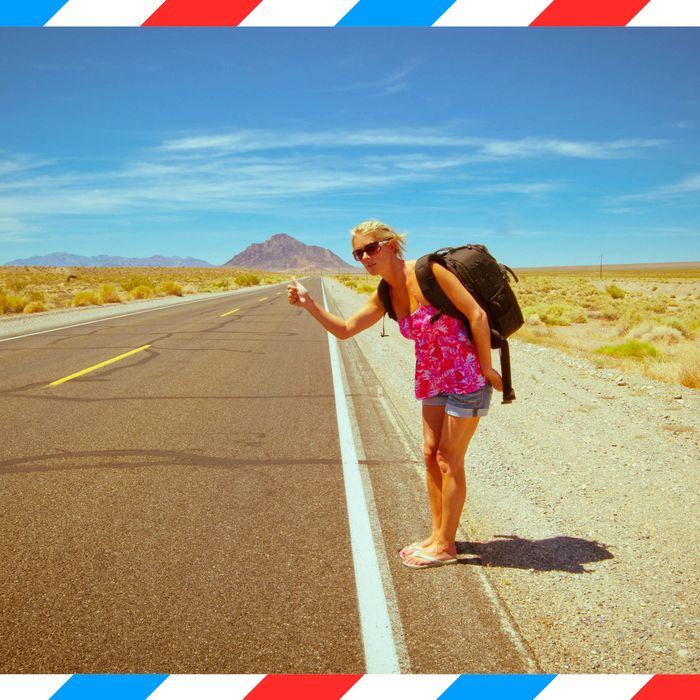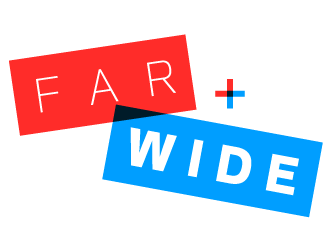 Far and Wide is the Cut's practical and fantastical series about exploring.
The first time I slept at a stranger's house alone it was because I had the flu. It was 2009. I was a 23-year-old backpacker in Naples and instead of chugging booze with rowdy foreigners, I had been trying to sleep in a hostel room with six bunk beds and a few inches of floor space. Every few minutes, someone would open the door, letting in a cacophony of drunk accents and loud music. I couldn't recover amid an international frat party, so I did what any logical traveler with limited life experience and savings would do: I asked a man I'd found on the internet if I could stay at his place.
After less than an hour, Jennairo showed up at my hostel and drove me, a phlegmy tourist, to his apartment at least 20 minutes outside of downtown. He had a short, curly mop of dark brown hair and dopey eyes. For some reason, I put my total trust in a man I knew nothing about, treating him more like a distant cousin than a complete stranger. Looking back, the decision to get in his car seems completely insane.
I first met Jennairo on couchsurfing.com. The site, which links travelers with hosts willing to offer up their couches or extra beds free of charge, still exists — but it had its heyday in the mid-aughts. Couch-surfing used to be a go-to for post-grad-tripping millennials interested in "good vibes" and "community"; the site was perfect for any broke 20-something relatively unconcerned with their own safety, looking to travel the world for cheap. You were, after all, shacking up in a stranger's apartment, often by yourself and without the privacy of a door. As a tourist, browsing local people's profiles ("I'm Mateo — I just love my dogs and human connection!") and reading their reviews ("Mateo took me around Madrid on his moped. Great guy!") was your only insurance against ending up murdered in your sleep.
Couch-surfing pioneered the "sharing economy" before the phrase was on the tongue of every Silicon Valley entrepreneur. It existed before you could log onto Airbnb and browse professionally photographed abodes that cost half the price of hotel rooms. But just as importantly, couch-surfing catered to millennials at a time when smartphones weren't ubiquitous and we were all a little more comfortable with meeting someone in person without the ability to stalk their Facebook, LinkedIn, Twitter, and Instagram accounts. Sharing intimate quarters with a total stranger as a way to "connect" didn't seem as absurd back then as it does to me today.
I barely recognize the version of myself who thought couch-surfing was a good idea. It now seems crazy that I curled up on a cot in Jennairo's rural apartment, which he shared with three caged bird and his out-of-town mom, for almost a week. My couch-surfing profile (still embarrassingly online) says I am "go with the flow" and that I want to "learn about connecting with people" — two things I could never say now with a straight face.
I'm not the only 30-something who looks back on their choice to bunk in a stranger's place with a mixture of shock and awe. At 26, a woman I know from high school, Nikki Cuddy, stayed with a New Zealand host who put the moves on her. It was 2013, and she locked herself in her room after the man sat down beside her on the couch, put his head on her shoulder, and started rubbing her back. "Now, looking back as an older woman who has a little bit got her shit together … I'm like … this man was totally manipulating a situation I was vulnerable in," she says. "I'm just relieved nothing ever happened."
In 2010, James Cave and his girlfriend stayed with a nudist in Bushwick. While they craved novel experiences back then — it was particularly funny to watch the man try to dodge hot oil while he cooked — Cave says his couch-surfing days are up. "I'm quite an introverted person, and to spend so much of the trip speaking to people … I found draining," says the 30-year-old. "Sleeping on a floor or even sharing a room with seven to eight people is not very high on [my] priority list."
Erin Abeln, who spent a few weeks living with five hard-partying, vodka-chugging male college students in Istanbul, feels the same way. "[With couch-surfing] you have no idea how nice the person's going to be … how your bed is going to feel, and what the sheets are going to feel like," says the 29-year-old. "These are things I care about now that I didn't give a shit about six years ago." Abeln's also in a relationship and says, "You couldn't really pay me to stay with a guy by myself or even with another person."
For many of us who couch-surfed in our early-to-mid-20s, it's easy to feel completely disconnected from that easygoing traveler who cared more about "experiences" than a good night's sleep and thought anyone kind enough to host travelers must be a saint, rather than a sleazebag. These days, I feel like a nervous mother when I remember the time I spent holed up in Jennairo's house drinking whiskey. What if something had happened? Why didn't alarm bells go off? How could I have been such a fool?
The second and last time I couch-surfed was in Columbia, Maryland, about six months after I returned from Europe. I was seeing a show and wanted to keep my newly awakened "free spirit" alive. This time, I had the sense to choose a female host, a single mother in her late 30s with whom I ate at P.F. Chang's, watched Eat Pray Love, and drank red wine while talking about "inspiration." She invited me to Burning Man, and I remember wishing that I could just sleep instead of participating in a "cultural exchange." I knew I wouldn't couch-surf again.
My younger self would be disgusted with the kind of tourist I've become. Now, I spend hours on Airbnb looking for places with perfect views, obsess over restaurant choices, and am more concerned with relaxing than connecting with locals. Yes, I miss being the person who booked one-way tickets and could subsist on loaves of bread for a week. But I'm okay with being the kind of traveler who cares about mattress quality than the kind of idiot who sleeps on a strange man's couch.