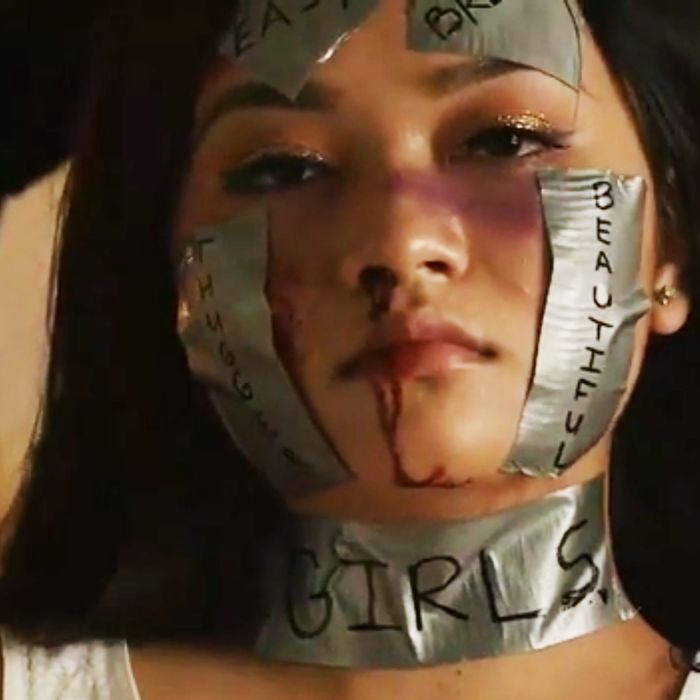 A still from Young Thug's Easy Breezy Beautiful Thugger Girls video.
When Young Thug teased JEFFERY, his mixtape from last August, praise for the Atlanta hip-hop savant ran rampant — who could forget that immaculate VFILES dress? When he teased his latest album, Easy Breezy Beautiful Thugger Girls last week, you might say the reaction ran a little more cold.
A one-minute preview video depicted a group of women inexplicably attacking another woman with a bat. The beaten woman is later bound and kidnapped. In the video's final image, the camera closes in on the woman's bloodied and bruised face, which is covered in tape that reads, "Easy Breezy Beautiful Thugger Girls," the album's name, a play on CoverGirl's long-held slogan, "Easy, Breezy, Beautiful, CoverGirl."
CoverGirl was none too pleased about the similarities and released the following statement to Billboard:
CoverGirl was not contacted by Young Thug or any parties regarding his original album title. The album is not aligned with our values at CoverGirl. Violence and abuse are unacceptable behaviors. We do not support the use or association of our iconic slogan, "Easy, Breezy, Beautiful, CoverGirl" with Young Thug's video, album, or promotional materials.
Though Young Thug released the album's title back in April, he quickly abbreviated the name to Beautiful Thugger Girls for its June 16 release. Other than the last-minute change, he's remained silent on the matter.