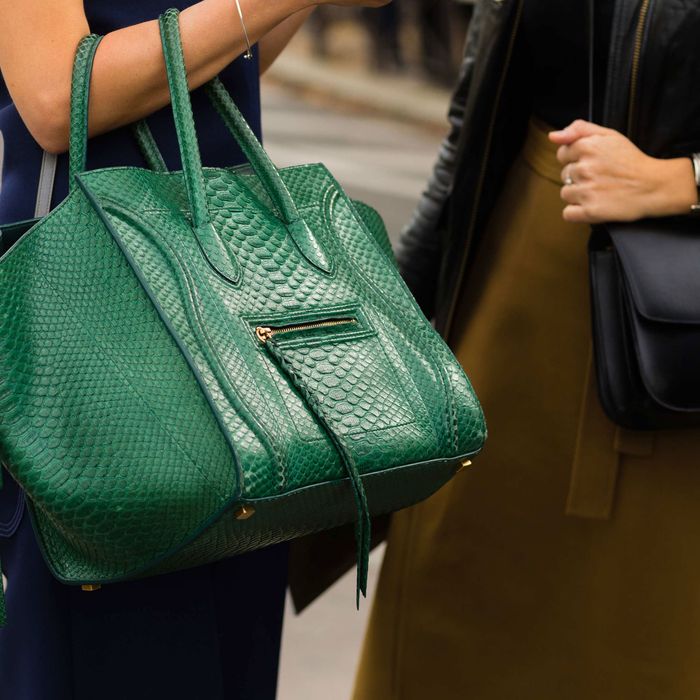 These aren't under $250 but you can use them as inspiration.
Photo: Nabile Quenum
Figuring out what to wear to work shouldn't be a bore. To make your weekdays easier, welcome to Business Casual. Every Wednesday, we'll highlight the best office-appropriate clothes, whether it's for the job you have or the one you want.
Some bags are meant for having a good time — you want them perched on your wrist while shimmying and shaking with a cocktail in hand. And others are more practical. They're the workhorses of your closet and take the abuse that comes with being used day-in and day-out. On any given weekday you're rushing out the door with the contents of your life dangling from your shoulders. For some that means just a set of keys and a wallet while for others it's all of that plus a laptop, makeup, and maybe a granola bar or two. No matter how much junk you need to schlep, you don't need to spend a lot to get an office-ready, chic work bag. Scroll down to shop our favorites under $250 and save that extra cash for your next, much deserved vacation.
If you've always wanted a light-colored bag but feared ruining it, here's an inexpensive one that won't have you running away from glasses of red wine.
Original Price: $58
The slim gold handle and unique shade of blue will have people fooled into thinking this cost ten times as much as it actually does.
What your grandma would deem to be a respectable-looking "pocketbook".
If you're a Mansur Gavriel fan and wanted their lady bag but couldn't justify the price, this one is very similar for a lot less.
Gold-handled bags are one of those rare trends you can actually wear to the office. Here's a deep-navy version of the style.
Are you an accident-prone person? Buy a Saffiano leather bag — you can scratch it, spill stuff, and it looks good with minimal effort.
Original Price: $235
Don't like big totes? This shoulder style fits your wallet, makeup, and keys without turning into a black hole.
Yes, the color is trendy but the roomy bag is also practical and on sale for 40 percent off.
Original Price: $395
Our friends over at the Strategist posted a similar style awhile back and it sold out so if you didn't get it the first time, here's your chance.
Original Price: $403
When you have to lug around a laptop, a sleek twill tote is lighter and more gentle on your back than any leather option.
Here's another trendy but work-appropriate option to make your weekday outfits feel more interesting.
If you buy something through our links, New York may earn an affiliate commission.