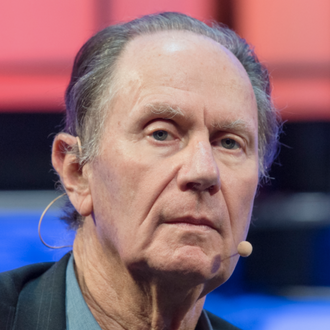 Board member David Bonderman resigned on Tuesday following a sexist joke.
Photo: Getty Images
On Tuesday, Uber called an all-hands meeting to discuss a report compiled by former U.S. attorney general Eric Holder on how the company could improve Uber's generally toxic corporate culture. The first item on the list was announcing that Uber's CEO, Travis Kalanick, will be taking an indefinite leave of absence. (Officially, the word is Kalanick is taking some time to grieve his mother, who died earlier this month in a tragic boating accident that also injured his father.) Other recommendations were aimed at fixing Uber's sexual-harassment and gender-discrimination problems. Which means there could not have been a less ideal moment for Uber board member David Bonderman — a partner at private equity firm TPG — to direct a sexist joke at Uber's only female board member, Arianna Huffington. Later on Tuesday, Bonderman announced his resignation from the board, a direct result of the ill-timed joke.
During the meeting, Huffington, according to audio acquired by Yahoo News, told Uber employees that data shows having one woman on a board of directors often leads to other women joining. To which Bonderman quipped that the data actually shows having a woman on the board leads to "more talking." (Get it? Because women are just so chatty. Hilarious!) By the afternoon, Bonderman had issued an apology for the joke, "I deeply regret it." And maybe on any other day in Uber's history — remember when Uber executive Emil Michael joked that the company should do opposition research to use against journalists, and then stayed on for several more years before his forced resignation — that wan apology would have been sufficient. But this was not any other day at Uber.
"I do not want my comments to create distraction as Uber works to build a culture of which we can be proud," Bonderman said in a statement, the New York Times reports. "I need to hold myself to the same standards that we're asking Uber to adopt. Therefore, I have decided to resign from Uber's board of directors, effective tomorrow morning." Arianna Huffington said she appreciates "David doing the right thing for Uber at this time of critical cultural changes at the company." Now we wait and see if those changes actually amount to anything concrete.