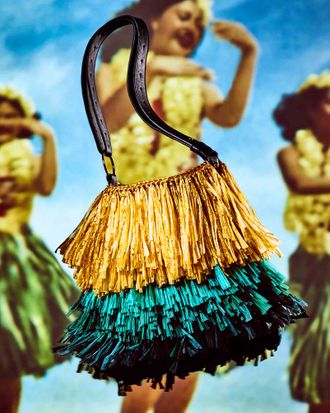 Finer Things is a photo series with a playful approach to elusive, glamorous fashion items we're fixated on right now.
Technically, nothing will ever be as good as lying on a black sand beach while holding a tropical drink that comes in a coconut. But since you can't jump on a plane to Hawaii, holding this bag comes pretty close. With its layers of colorful raffia that bring to mind hula skirts and tiki huts, it's one of those rare items you can truly describe as cheerful. Just imagine grasping the handle and giving this bag a good shake — you'd hear a satisfying rustling noise worthy of any ASMR enthusiast. And if you don't appreciate its soothing swish-swish noise, you could use it for a pretty fun boomerang.
If you buy something through our links, New York may earn an affiliate commission.