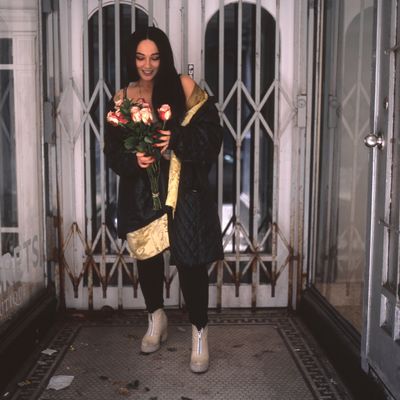 DJ Haram.
Photo: Amy June Breesman
As part of That's a Bop, our month-long effort to introduce you to artists and songs beyond the top-ten list, we really wanted to save ourselves from putting "Passionfruit" on repeat at every party this summer. So we called upon Discwoman, a New York–based collective that showcases ciswomen, transwomen, and genderqueer DJs, to curate a killer playlist for us each Friday. The only rule: no Drake.
This week's playlist is curated by DJ Haram, a Jersey-born, Philly-based producer and DJ. Her sets pay tribute to Jersey, Philly, and Baltimore with club and booty-bounce sets, but she'll also pay homage to her roots in the tradition of Middle Eastern dance music, as well as DIY noise and experimental sound. She's one half of the noise/rap group 700 BLISS. Haram curates a few nights in Philly: a legal fundraiser party series called (f)LAWLESS, a monthly, live/DIY hip hop night called Gas, and a monthly radio program called RAGE RADIO, on 91.7 FM. This summer, she's touring North America and Europe.
Her instruction manual: "These are a dozen tracks I'll be listening to throughout the summer — at my spot in Philly, driving down to the shore in Jersey, on flights, and between shows on tour. The music speaks for itself. These are all tracks worth putting on repeat, turning into anthems."