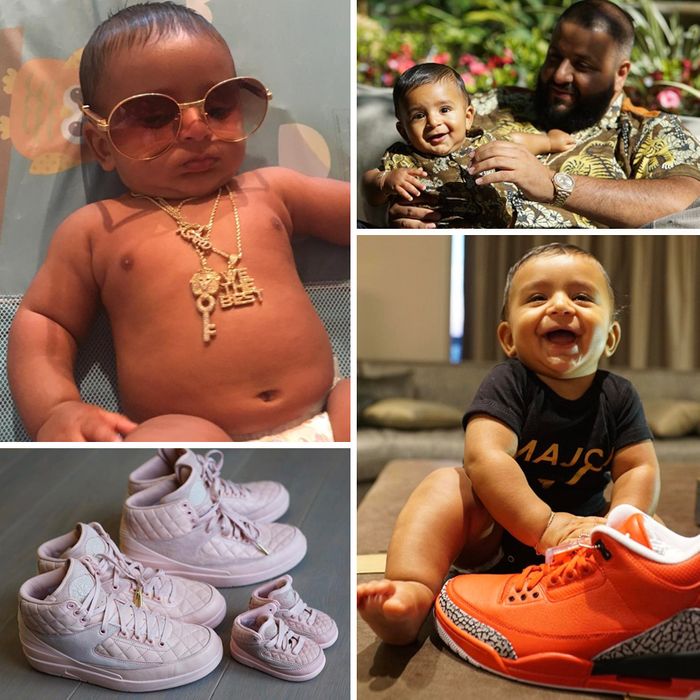 We the Best Baby.
Photo: Courtesy of Instagram/asahdkhaled
DJ Khaled's young son, Asahd Khaled, hasn't been on this earth for a year and he's already got a sweeter setup than most of us ever will: tiny suits custom-tailored for his tiny body, a combined Instagram and Twitter following of almost 900 thousand people, and the covers of more than three hit singles. Asahd may be only a baby, but he's a mogul in training. His entire existence is a major key.
There are still a full three months of summer to go, but Asahd's hot streak shows no signs of slowing. Oh, did you get a kiss from Rihanna? Did you get to the ring the bell at the New York Stock Exchange? Are you sitting on your tiny custom golden throne next to your pet leopard? Didn't think so.
Leo might have been 2014's summer hero, and surrounded by dogs on yachts, Valentino Garavani took the title in 2015, but this year, the We the Best Baby is the undisputed king. He really is shining (shining, shining, yeah).
He got a kiss from Rihanna. If there is one thing any mortal wants, it is to find away to capture the attention of beautiful Rihanna, our indifferent queen. Just the attention, not even the affections of. Former King of Summer Leonardo DiCaprio reportedly couldn't do it. Drake certainly could not manage it. But at eight months old Asahd has charmed his teeny tiny way into Rihanna's heart. Here they are posing together in a warm embrace:
He can even make jokes with her, publicly, via Twitter:
Drake, maybe take some notes from the number one right here.
He was on the cover of XXL: XXL is a respected, influential hip-hop publication and the cover is reserved for respected, influential figures in hip-hop. Artists can work their whole careers in hopes of ending up on an XXL cover. I have frozen goods in my freezer that are older than Asahd, and yet, here he is, on the cover of the spring issue, giving his best steely, icon gaze of all time.
What did he do to deserve this honor? I'm not saying he is "responsible for DJ Khaled's recent run of incredible singles," but Baby Asahd has a widdle executive producer credit on Khaled's latest album Grateful (June 23), and has approved every track: "The poops and the throw-ups are the super-blessings," Khaled said on Jimmy Kimmel Live, adding that Asahd barfed on him him while he recording "Shining," a hit. Beyoncé might sneeze on a beat and the beat gets sicker, but when Asahd barfs on the beat, you know it's a banger. Nice of him to share this cover with his dad.
He got to ring the bell at the NYSE: Darth Vader, Hillary Duff, and the Taco Bell Chihuahua have all rung this bell. When you're a Boss Baby like Asahd, you ring the bell before you even understand what money is.
He has the swaggiest wardrobe: Speaking of suits: Asahad got chainz, the limited addition Jumpman Jordans. Asahd got the binky, Asahd got the weeny custom pale blue tuxedo, and the custom teeny silk shirts. At their best, everyone else is just a pair of cargo shorts.
Justin Bieber cradled his baby head. If cleanliness is next to godliness, then Justin Bieber is next to godly-ish-ness. The Biebs is fairly certain he can commune with god, and doesn't shy away from attempting to do so publicly. Whether god answers or not, it's not unlikely that he passed on some of those holy blessings to Asahd when he cradled his baby head in February. Or … was that Asahd who was passing blessings onto Bieber?
He sat up by himself in a hot tub. A baby's typical development looks like this: They can sit themselves up between four and seven months, they can stand by themselves at ten, and can walk well between fourteen and fifteen months. Of course, results may vary, but Asahd has been on the cover of three singles sitting up in a chair, holding himself up in a hot tub, and just straight up standing with his arms in the air. You know any other babies who believe in themselves and their development that much?
He already has a legion of papparazzi and fans following him wherever he goes. When your dad is a famous record producer with famous friends and hit singles, it's not surprising that by proxy, people might take an interest in you, too. But Asahd himself is quickly eclipsing even his own dad as the object of the world's affection. A sighting of Khaled is meh now. The real Snap-worthy moment is catching Khaled the younger out in the streets. No pictures!
Naomi Campbell said he was beautiful. When the most beautiful woman in the world says you are beautiful, that is more than a major key. It makes you the undisputed king of summer.