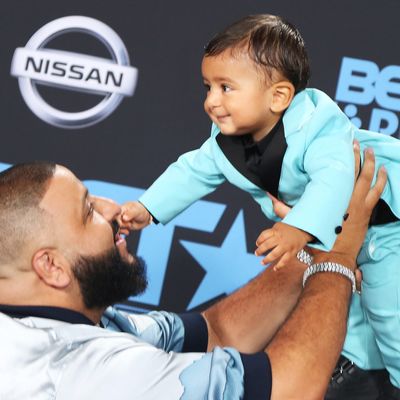 You're a genius. You're an icon. You're a mogul.
Photo: 2017 Getty Images
Released on Friday, DJ Khaled's tenth studio album, Grateful, has already rolled out more blockbuster hits than the producer's son Asahd has years on earth. There's the cooling by the pool "I'm the One"; the Beyoncé and Jay-Z–featured "Shining"; and last week's "Wild Thoughts" where Rihanna once again proved she defies the Kinsey scale. But now that the album is officially out, fans have had a chance to take in the full 23 tracks, and oh my god — there is no greater, more inspiring song ever written than the Khaled-Chance collaborative tribute to their kids, "I Love You So Much."
"I Love You So Much" has everything: it has Chance the Rapper rapping the actual alphabet, it has a Jackson 5 pitch-modulated guitar sample, it has a refrain made up of the things parents ramble off when they're changing diapers ("Where your eyes at? Where your ears at? Where your mouth at? Where your nose at?") and it's got Khaled, in all of his Khaled glory, shouting glowing praise for his growing baby boy. The track's origin story even made it into the mix. At the song's open, Khaled says, "I'm gonna make a song called 'I love you so much'" — a little behind-the-curtain look at how the sausage gets made.
But unlike the majority of Khaled's body of work, "I Love You So Much" doesn't have a single "ANOTHER ONE" or "WE THE BEST MUSIC" or "DJ KHALED" being yelled aggressively into the ether. Instead, the callouts that the relentless hypeman is known for have been replaced with a series of blessings and affirmations for Asahd. According to Khaled's shouting, here are all the things that his 8-month-old son Asahd is:
—the greatest that ever did it
—born blessed
—my son
—a mogul
—an icon
—a legend
—the greatest
—my biggest blessing ever
—amazing
—handsome
—incredible
—a genius
Just imagine for one second that your dad loved you as much as DJ Khaled loves Asahd. What was the nicest thing your dad ever did for you? Did he give you executive-producing credit on his tenth album, get you an Instagram and a Twitter account, make Rihanna fall in love with you, or write you a song where he repeats "I Love You So Much" for nearly five minutes?
But you know what, it's okay if he didn't. "I Love You So Much" may be a song made for a baby, but you don't have to be a baby to take inspiration from it. You're an icon. You're a legend. And DJ Khaled loves you so much.