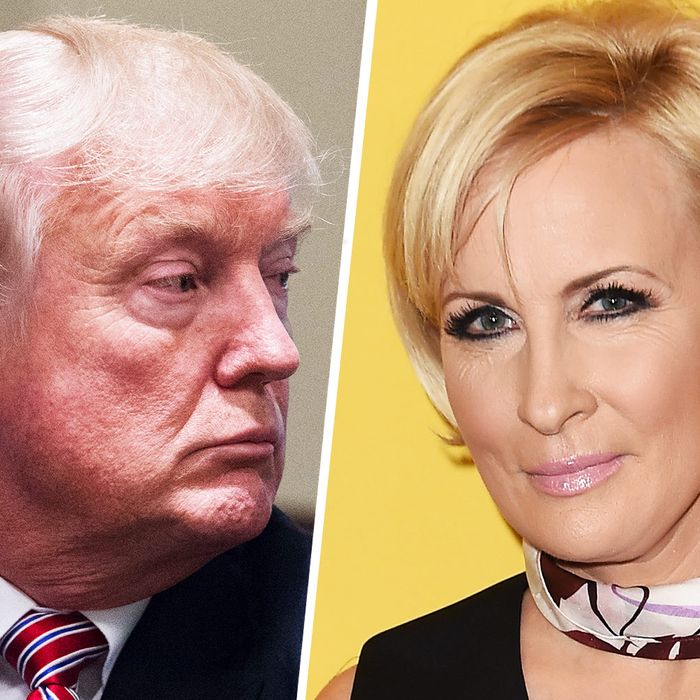 Donald Trump, Mika Brzezinski.
Photo: Getty
Donald Trump's tweets have long been inappropriate for someone who holds the job of president of the United States, and most other jobs for that matter. On Thursday morning, he took to the platform to address the pressing national issue of … Mika Brzezinski's alleged face-lift.
The impetus was a Morning Joe segment that criticized him, though Trump is quick to point out that, nope, he absolutely was not watching the show before sending out his angry tweets.
(Brzezinski and co-host Joe Scarborough have been criticized in the past for having an overly friendly relationship with Trump, but how times have changed.)
"I heard poorly rated @Morning_Joe speaks badly of me (don't watch anymore)," he wrote. "Then how come low I.Q. Crazy Mika, along with Psycho Joe, came to Mar-a-Lago 3 nights in a row around New Year's Eve, and insisted on joining me. She was bleeding badly from a face-lift. I said no!"
Brzezinski, for her part, has not responded directly, though she did send out a tweet of her own shortly afterward.
Update, 10:04 a.m.: An MSNBC spokesperson also responded, saying, "It's a sad day for America when the president spends him time bullying, lying, and spewing petty personal attacks instead of doing his job."