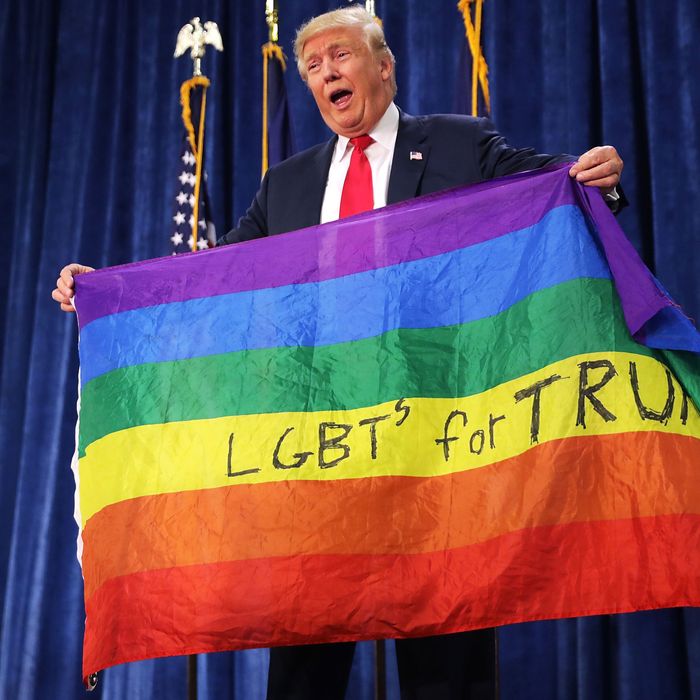 President Trump holding an upside-down Pride flag.
Photo: Getty Images
On the last day of May 2017, President Trump officially named June 2017 "Great Outdoors Month," "African-American Music Appreciation Month," and "National Ocean Month," among other things. Unlike his predecessor, however, Trump made no mention of National LGBT Pride Month, despite the celebratory marches taking place across the country.
Until today, there was still time for his administration to fix that omission. But here we are on the last day of June, and aside from a stray tweet from Ivanka and a seven-day-late State Department memo, the White House this month continued its pattern of stifling the LGBTQ movement by largely ignoring it.
President Trump's relationship with the LGBTQ community has always been — as evidenced by the upside-down rainbow flag he held during a campaign appearance — pretty wonky. During a campaign speech last July, he mentioned the shooting at Pulse nightclub in Orlando, and even acknowledged it as a targeted attack on the LGBTQ community. But instead of presenting himself as an ally to marginalized people, Trump promised to "protect our LGBTQ citizens from the violence and oppression of a hateful foreign ideology." In other words, he used the speech as an opportunity to attack another group he'd openly condemned before: Muslims. He also claimed he'd be "better for the gay community" that Hillary Clinton – an assertion belied by the Republican party's official platform, which supported gay conversion therapy, rejected same-sex marriage, and condemned "redefining sex discrimination to include sexual orientation or other categories."
Since the election, besides keeping in place an Obama-era order protecting LGBTQ employees from discrimination by companies that do business with the federal government, Trump's White House has done its best to scrub LGBTQ Americans from the public consciousness. There's no mention of the LGBTQ community on the White House's new website; the 2020 Census won't include questions about sexual orientation or gender identity; President Obama's guidelines protecting transgender students from discrimination were revoked (trans discrimination will now be addressed on a case-by-case basis, according to a June memo); and the Department of Commerce removed the mention of sexual orientation and gender identity from its equal-employment policy.
Sarah Kate Ellis, the CEO of GLAAD, told the Daily Beast that the invisibility of LGBTQ Americans under Trump is striking – it would a minor victory, she said, if he were "even acknowledging that we exist." But, she added, "candidate Trump was lip service, and now President Trump is absolutely erasing LGBTQ people."
There's not much doubt as to why — as the Washington Post points out, the reason for Trump's snub is pretty clear: "Trump continues to make decisions in the White House that are informed by his base of support — and one of his most fervent bases is evangelical Christians." In other words, now that Pride has come and gone, it's increasingly unlikely the White House will veer from this pattern. On the bright side, at least the rest of the world is making progress.