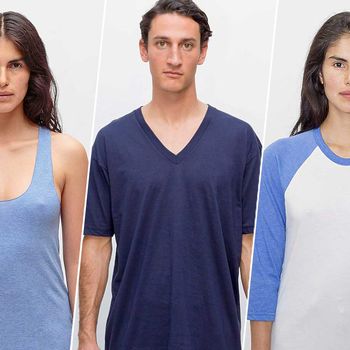 Hmm, this looks familiar.
Last year, WWD reported that former American Apparel founder Dov Charney was making the most of his departure from the brand by diving into his own revenge business. The concept sounded eerily familiar: The new venture was going to be a line of basics made in Los Angeles. This week, Retail Dive takes a long look at Charney's new pet project, Los Angeles Apparel, and discovers that it still sounds a lot like American Apparel, from the design down to the branding, albeit with a better credit standing. This time around, Charney has a factory with 400 employees (many of whom have worked for him years) plus a healthy line of equity that's backed by investors.
The first batch of clothes are already out and being sold wholesale at TSC Apparel, a site Charney claims is one of the top three screen printers in the country. As for growing the business, the approach to Los Angeles Apparel sounds plucked out of the mid-2000s:
Charney won't say much about the marketing approach for Los Angeles Apparel, except to say that it will broadly resemble American Apparel's. "I'm not saying that it will have the same high temperature, but it will be authentic," he says. "The workers are part of it, the culture of Los Angeles is part of it. But human sexuality is part of the reason that people wear clothes. You're not going to escape our sexuality from a narrative about a clothing company."
What's that line about old dogs and new tricks again?