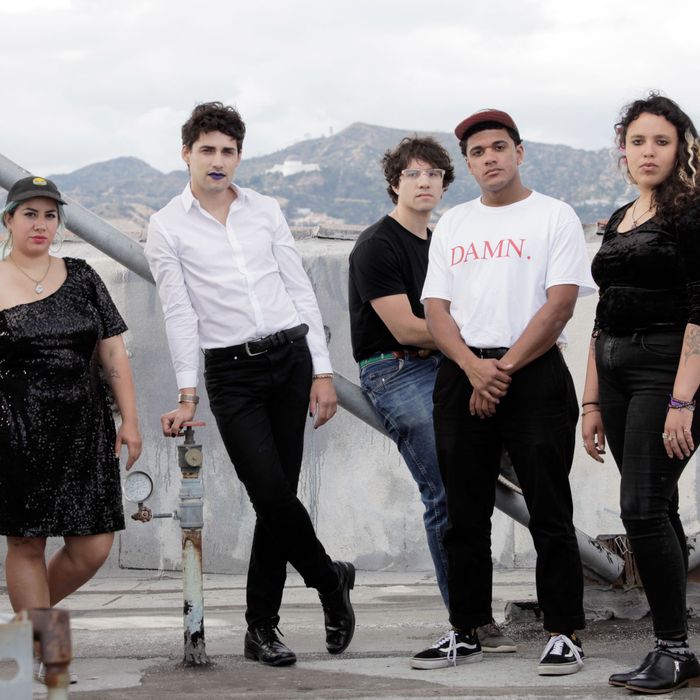 Downtown Boys.
Photo: Miguel Rosario
That's a Bop is our monthlong effort to introduce you to artists and songs beyond the top-ten list. In Up Next we're giving you a deeper look at this year's up-and-comers, so when your friends finally discover them, you can honestly say that you prefer their first album.
In any other year, the lyrics "A wall is a wall and nothing more at all!" might have been interpreted to mean a range of things: the walls people put up in relationships, the paper-thin walls of our apartments, Hadrian's Wall, the Berlin Wall, the Great Wall of China. You name it. But in 2017, when reality TV star Donald Trump is the 45th president of the United States, a wall can only mean one thing: "a great, great wall on our Southern border" paid for "by Mexico." Because apparently "nobody builds walls better" than him.
The lyrics come from the debut single off of Providence-based punk quintet Downtown Boys' third record, their first to be released on Sub Pop Records. Cost of Living follows up Full Communism, the queer Latinx band's explosive sophomore album, with lyrics that tackled themes like police brutality and white supremacy, layered on top of fast-churning, scrappy punk and rock saxophone melodies. (In tribute to their rock-sax-band ancestors, the album ends on a cover of Bruce Springsteen's "Dancing in the Dark.") Two years later, the band is back, making a more intentionally political statement than ever before — from their album lyrics to their politically minded music website Spark Mag, all while grappling with how to maintain their punk spirit on a larger mainstream platform.
Though the album was written before January of this year, Downtown Boys made a conscious effort to sharpen their political message on Cost of Living. "The lyric writing did shift this last record," Victoria Ruiz, the band's lead vocalist and lyricist told the Cut over the phone in June. "The vibrations are very different right now with everything that is happening. While all the lyrics were written before the current regime was inaugurated, we were writing about the feeling of being the target of white fragility, white supremacy, the police state, the homophobic state."
For those who might be unfamiliar with the rage and the rapture of a band as prescient as Downtown Boys, their music is a reminder that, despite what you heard, punk is far from dead. "Whenever new art and music come out, it will be contextualized in whatever moment we're living in," Ruiz explained. Mary Regalado, the band's bass player, added that because their music reaches people who have long been left out of the mainstream music narrative, it's actually sort of timeless. "We have a lot of fans who are like us: people of color, queer folk, marginalized people. We sing and talk so much about power. We're all experiencing the same oppression."
But a growing fanbase often comes with prickly questions about compromising values and the sacrifices musicians are asked to make for success. How can a band like Downtown Boys exist in a capitalist society? "I watch Rage Against the Machine videos, and I'm like, How come this band isn't around anymore?" Ruiz said of one her band's influences. "Then when you think about it, you're like, I have some guesses as to why."
Ruiz explained that they're learning how to balance the demands of the corporate music world as they go. Earlier this year, they were given two opportunities to tackle that conflict head on. In March, they demanded music festival SXSW remove language in its contracts with bands that seemed to threaten ICE deportation if they "acted in ways that adversely affect[ed] the viability of their official SXSW showcase." Organizers of SXSW removed the stipulation and Downtown Boys played the festival.
Then they were asked to play Coachella.
"We were freaking out," Ruiz told me about the opportunity. "How many bands playing Coachella are fronted by Chicana people? How many bands playing are going to have this message? We were going to be one of the smallest bands at the whole festival." It only added to their excitement that Beyoncé was still a headliner at the time. Downtown Boys gave themselves due time to freak out, then they sat down together to discuss the reality behind the offer. Could a band like theirs actually say yes to playing a huge corporate music festival? Would they have all the real facts about what they had signed up for?
Ultimately, they made the executive decision to play, but take action as well. Shortly after their performance, they posted an open letter directed at Philip Anschutz, one of Coachella's owners, stating their disapproval of his reported donations to anti-LGBTQ groups. (He has since denied the claims.) The letter explicitly said that the band were "workers" for Coachella and that they were "getting paid to do a job and we have a problem with one of the bosses." Following the writing of the letter, they donated a portion of their Coachella cash to groups that fight for LGBTQ rights.
"It's the very beginning of any sort of public resistance," Ruiz said. "I think that's how it has to start. We wanted to continue this collective momentum pushing back against these festivals that have so much clout. It's empowering as artists to know that we could do it." She emphasized that, especially with their new album, they plan to use their growing visibility as leverage for change.
"It's cathartic for us to play in the band, to go on tour," Regalado added, noting that that catharsis is something they share with their fans. "Every night is a release of all these tensions that have accumulated throughout the day, throughout our lives, throughout hundreds of years of colonialism and racism."
Downtown Boys' Cost of Living will release on Sub Pop Records on August 11.