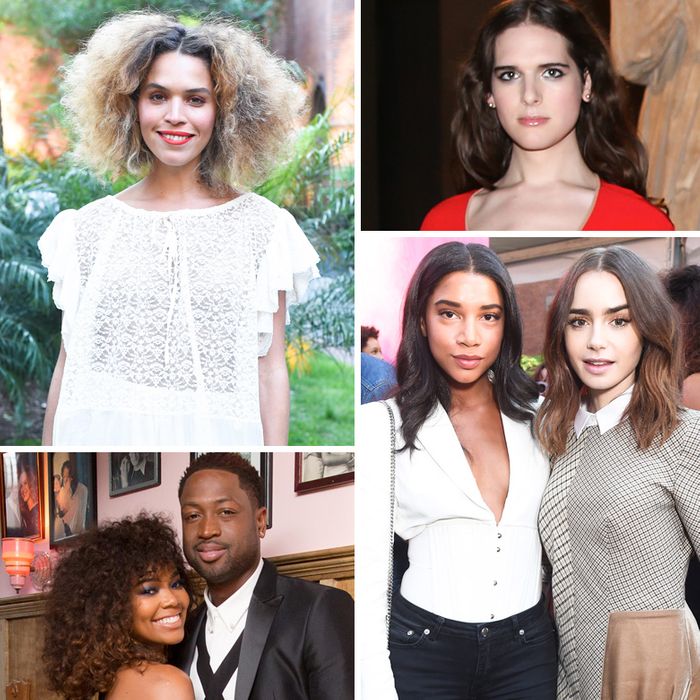 This week, the powerful came out to play. Google's unveiling of its We Wear Culture feature at the Met meant a summit for the fashion and tech elite, with Anna Wintour and Andrew Bolton, head curator of the museum, posing alongside Eric Schmidt, executive chairman of Alphabet, Inc. Tory Burch and Hari Nef, in a red Sies Marjan dress and platform boots, were among the celebs in attendance who mingled between Roman classical sculptures and donned virtual-reality goggles to experience the art of the future.
At the Stella McCartney spring 2018 presentation, Alec and Hilaria Baldwin, Lorne Michaels, and Chris Rock joined the designer for garden cocktails. The event drew an eclectic crowd of who's whos, from fashion's young guns — Lily Collins, Hannah Bronfman, and Cleo Wade, in a flutter-sleeve white lace top with a bold red lip — to all-stars Lauren Hutton, Debbie Harry, and Helena Christensen (also in a garden-appropriate white lace gown).
At the American Film Institute's Life Achievement Award Gala, Emma Stone, Patty Jenkins, Sarah Silverman, and Jane Fonda came out to honor a hat-topped Diane Keaton, who took home the award in a black-and-white getup complete with lace-up leather boots and black fingerless gloves.
Click ahead to see Jenna Lyons, Brad Pitt, Wiz Khalifa, and more celebs in the best party pics of the week.